Lights! Camera! Action! Students across the district are creating digital stories at their schools thanks to fully equipped state-of-the-art mobile media labs. From kindergarten to 12th grade, students are using tripods, cameras and computers to create broadcast videos, providing a sense of school community and ownership through morning announcements and streaming platforms. You can read the full LCPS news release at https://www.lcps.net/article/835916
This webpage will serve as an archive as students Tell The Story of their lives, their schools, their community.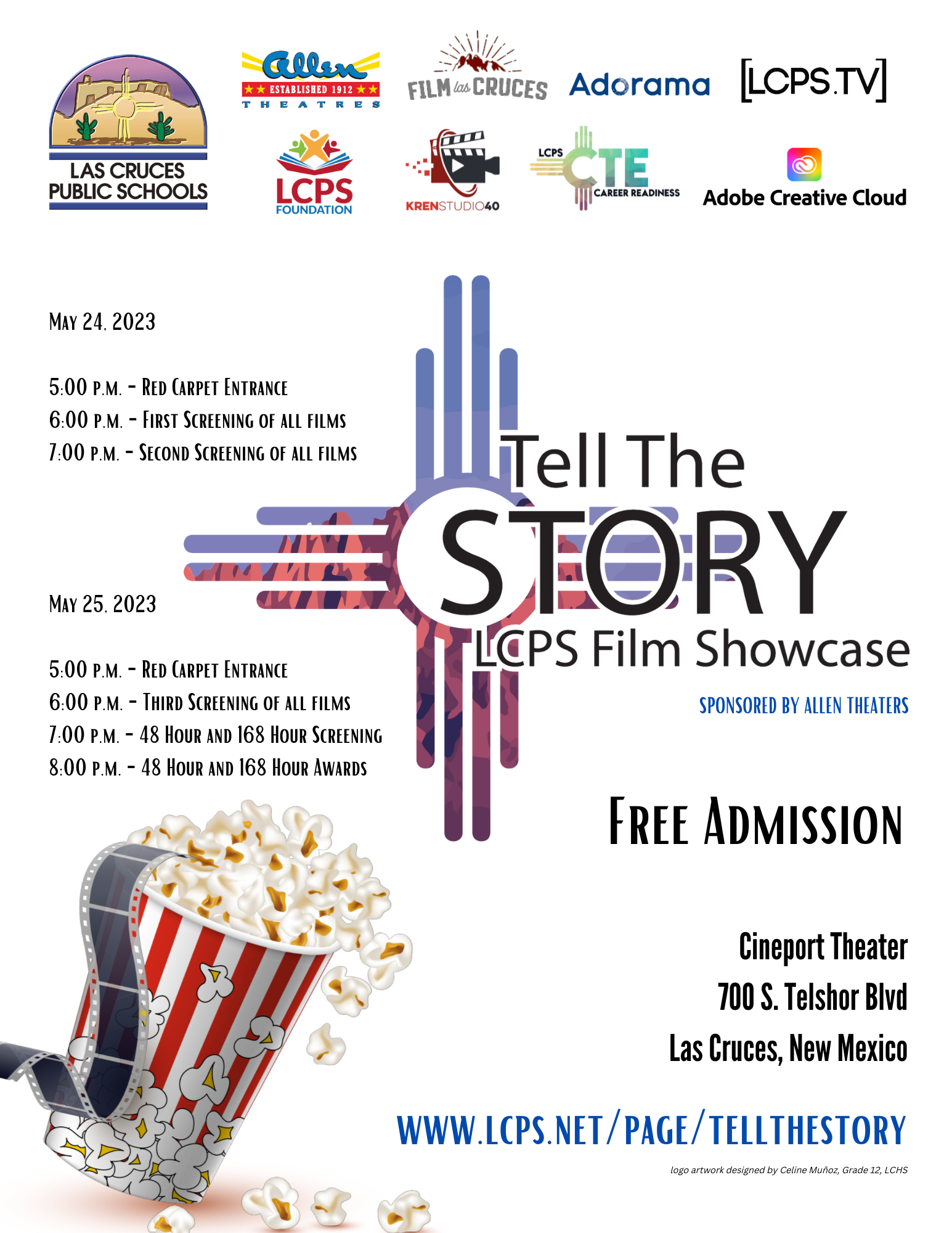 2023 Tell the Story Film Showcase
The 2023 Tell the Story Film Showcase was a huge success! LCSP students, parents, staff and community members walked the red carpet and enjoyed screenings from participating schools.
You can read more about the event on the LCPS website, and you can view the screenings on the KRENStudio Youtube Channel.
The 2023/24 school year will no doubt feature amazing student films, and we look forward to seeing you on the red carpet for the 2024 Tell the Story Film Showcase!
2023 Tell the Story Participating Schools
Alameda Elementary School
Career Day
Friendship in the Museum
PAW-TV Broadcast
Arrowhead Park Early College High School
Imagine
The Weasel of Santa Fe
Centennial High School
Crazy 8 Submission
Feature Story Isaac Nunez
Feature Story Keriana Gamboa
Inside Thought
Lost
News Story Samara Marquez
News Story Jadzia Murphy
Vending Mastake
Columbia Elementary School
Lego Ohio –The Universe is Breaking
Space TV Daily Announcements
The Snatcher
Desert Hills Elementary School
All About New Mexico
Desert Hills Broadcast
Hermosa Heights Elementary School
Silverhawk News Broadcast
Highland Elementary School
The Pranked Movie
Lynn Middle School
LMS in the Mornings
Mesilla Elementary School
History of Billy the Kid
Mesilla Elementary School Broadcast
Mayfield High School
Foes to Friends
Kickin' Dirt – an Action Sports Edit
The Lurch
Paint with Me
Special Olympics
Tengo Ansiedad
Mesilla Valley Leadership Academy
Let's Watch a Movie
Organ Mountain High School
Dozer
Inception
Organ Mountain School PSA
Still
Super Mario History
Picacho Middle School
Caught in the Act
Spider Man
Rio Grande Preparatory Institute
Cooking with ProStart
Esports at RGPI
Zen Zone
Sierra Middle School
Art of Music
The Bear
The Book
Brianna and her Dollar
Class Stress
Danny the Dinosaur from Up South
Fish out of Water
Health Care
The Race
Sierra Falcon
Sierra Film and Broadcasting Commercial
Sonoma Elementary School
Mouse Astronaut
Sonoma News Broadcast
Welcome to Sonoma
Tombaugh Elementary School
CTB Broadcast
Pluto and Back
Tombaugh Stargazing
Vista Middle School
How Drug Use is Affecting Our Community
#tellthestory: College & Career Enrichment Day Photo Exhibit
Students from across the district Tell The Story of their future college and career goals. During the month of October LCPS's Enrichment theme was College and Career. In addition to the wonderful things happening at each campus, LCPS did a districtwide photo exhibit highlighting the goals of our students!