The National Center for Women & Information Technology, has selected Melody Hagaman as a recipient for the 2021 NCWIT National Aspirations in Computing Educator Award. Hagaman teaches computer science for grades nine through twelve at Centennial High School. When Hagaman started the computer science program at Centennial High School, it consisted of a single, advanced class with content dictated by the state. During that time, many of her students struggled with jumping into a dual-credit course as their first taste of computer science, due to learning disabilities, language barriers, or other obstacles. This motivated her to negotiate for the opportunity to create an introductory course that would be accessible to more students with diverse backgrounds, support needs, and experience levels. In the nine years since then, the program has developed into a full five-course computer science pathway.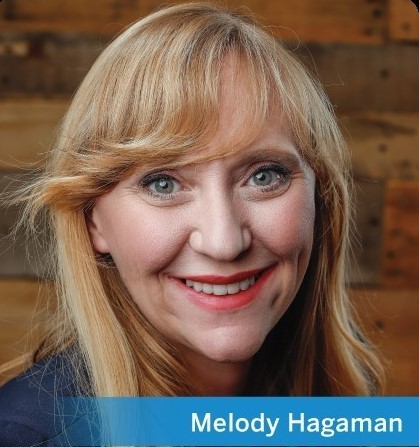 The National Center for Women & Information Technology (NCWIT) is a non-profit community of nearly 1,500 universities, companies, non-profits, and government organizations nationwide. The non-profit is working to increase the influential and meaningful participation of girls and women—at the intersections of race/ethnicity, class, age, gender identity, sexual orientation, disability status, and other historically marginalized identities—in the field of computing, particularly in terms of innovation and development.
Over the years, Hagaman developed creative recruitment and outreach events, such as interactive presentations in freshman classes to educate students from underrepresented groups about opportunities in coding. After attending the Richard Tapia Celebration of Diversity in Computing, Hagaman was inspired to develop an eTextiles course to recruit a broader range of students, even traveling to Austria to receive training.
With every aspect of eTextiles she observes, Hagaman believes computer science can play a pivotal role in the world of fashion design as an alternative to the traditional game or app-based curricula generally utilized by introductory-level programming courses. Over the years, eTextiles has dramatically shifted demographics; the program has seen a growth in diversity, girls, students of indigenous descent, and students with special needs gaining interest in the computer science field. Hagaman broke down barriers and created the eTextiles course to make computer science more accessible to traditionally underrepresented students in the field of computer science.
Hagaman's colleagues describe her as a champion for STEM and Computer Science for students, specifically in Las Cruces Public Schools, and throughout the state and nation.
"Her passion for computer science is fueled by her desire for ALL students to have access to Computer Science," said Lisa Hufstedler, Associate Director of Teaching and Learning K-12 Mathematics.
"I can say that without a doubt, Computer Science education in Las Cruces Public Schools would not be anywhere near where we are today without Melody championing this cause," added Hufstedler.
The NCWIT equips change leaders with resources for taking action in recruiting, retaining, and advancing women from K-12 and higher education through industry and entrepreneurial careers. The non-profit celebrates up to three outstanding educators in the country whose work embodies the best of the AiC Educator Award. The Award identifies outstanding formal and informal educators who play a pivotal role in encouraging 9th-12th grade students who self-identify as women, genderqueer, or non-binary to explore their interest in computing and technology. The award also recognizes these educators for their efforts to promote gender equity in computing.
For the past ten years, Hagaman has facilitated equity-based, cross-curricular professional development for computing educators at the national level through Project GUTS (Growing Up Thinking Scientifically), an integrated science and computer science program for middle school students serving schools and districts internationally.
***
— Samantha Lewis, LCPS Public Relations Coordinator, 575-635-9303, slewis@lcps.net