Shout out to Yeh-Nhi Wilson, our LCPS student athlete of the week from Organ Mountain High School. Yeh-Nhi plays basketball for the Knights, averaging 14 points in his last two games. He was selected to play in the Hobbs City Tournament and the Hobbs Holiday Hoopla. His coach says Yeh-Nhi is a great student athlete that never falls under pressure. Way to go, Yeh-Nhi!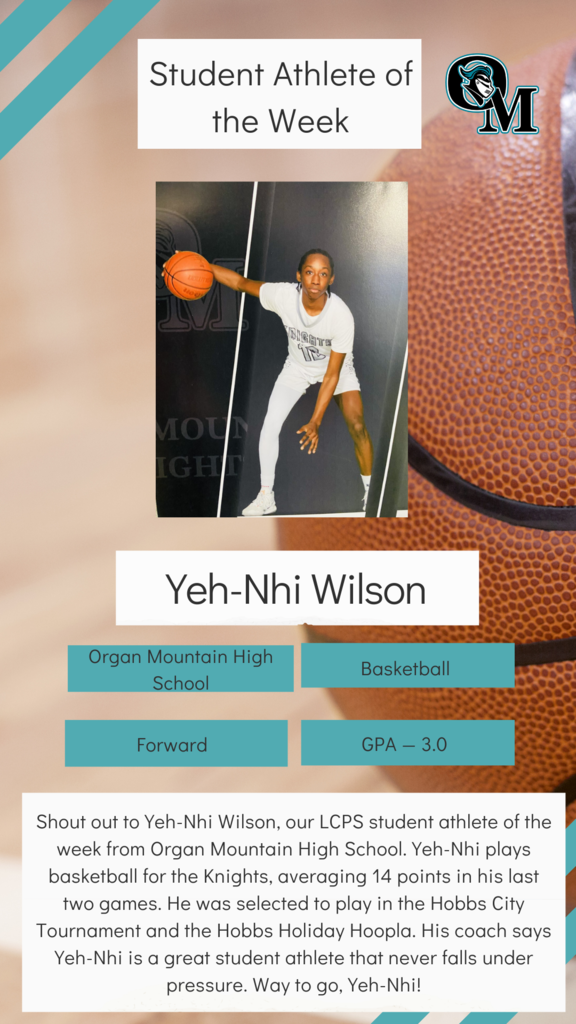 Congratulations to Caitlin Turnbow, she the LCPS student athlete of the week from Organ Mountain High School. Caitlin plays basketball for the Knights. She averages 19.8 points and 11.9 rebounds per game. She was All District in 2021-2022 and she made the All-Tournament Team in Rio Rancho. Her coach says she truly cares about her teammates and when she gets to practice, she always puts in 100% effort. Great job, Caitlin!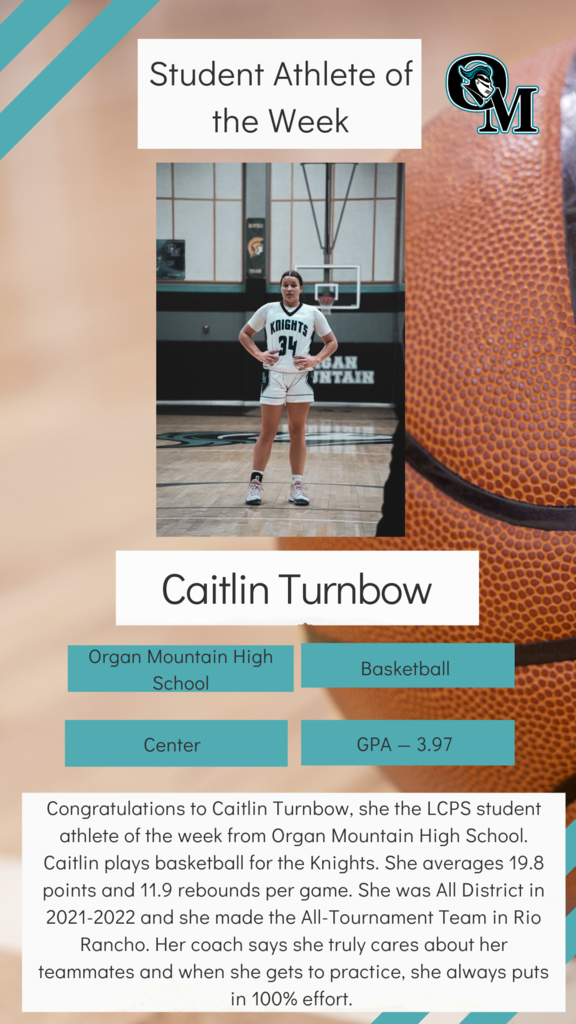 Winter Weather Forecast Prompts Delays, Cancelations — Inclement weather in Monday night's forecast, expected into Tuesday, has prompted administrators at Las Cruces Public Schools to call a two-hour delay for all students and staff on Tuesday, Jan. 24. According to officials, bus schedules have been adjusted to accommodate the late start. Tuesday's delay prompted the cancelation of all morning DD preschool classes. A girls basketball game Monday night between Mayfield and Alamogordo was also canceled and rescheduled for Tuesday, Jan. 24. The ninth-grade teams will play at 4 p.m., followed by junior varsity at 5:30 p.m. and varsity at 7 p.m. All games will be held at Mayfield High School. Wrestling matches between Mayfield, Las Cruces and Organ Mountain high schools set for Tuesday, Jan. 24 at Mayfield were rescheduled for Wednesday, Jan. 25 at 5 p.m. Updates will be posted on the LCPS Athletics page, linked here. For any additional weather delays or updates, please monitor the LCPS homepage,
www.lcps.net
.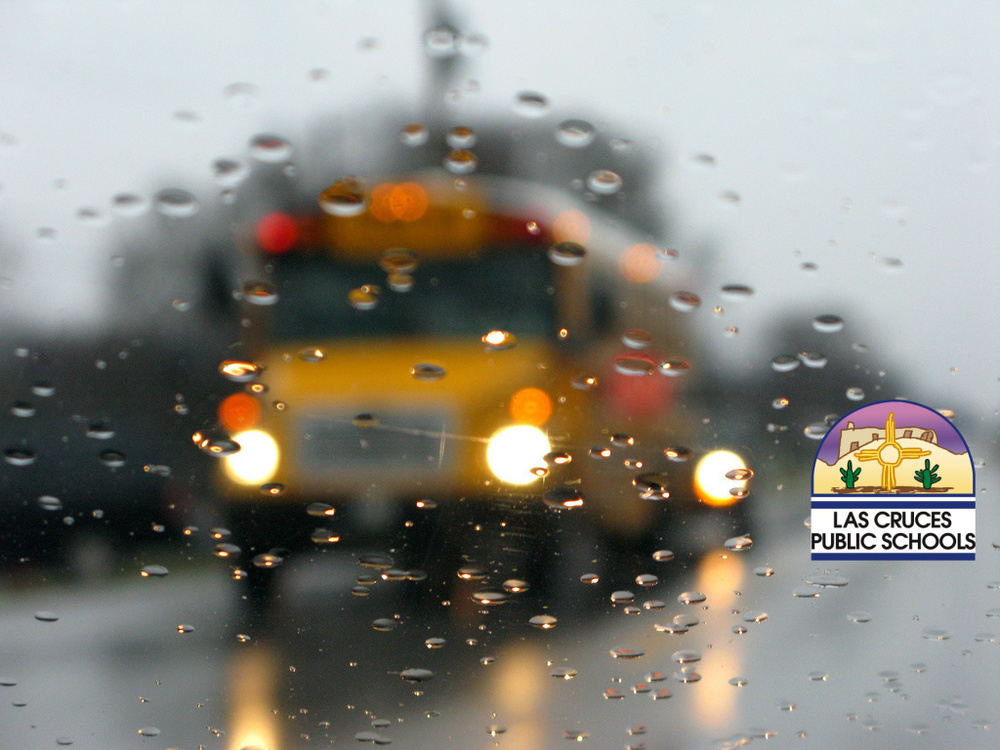 Due to an inclement weather forecast in our area, the Las Cruces Public Schools Superintendent has issued a two-hour delay for students and all LCPS staff on Tuesday, Jan. 24, 2023. Bus schedules have been adjusted to accommodate the delay. Please be advised that all morning DD preschool classes (7:45 a.m. to 10:45 a.m.) as well as DD pre AU classes are canceled tomorrow. For updates, please visit
www.lcps.net
.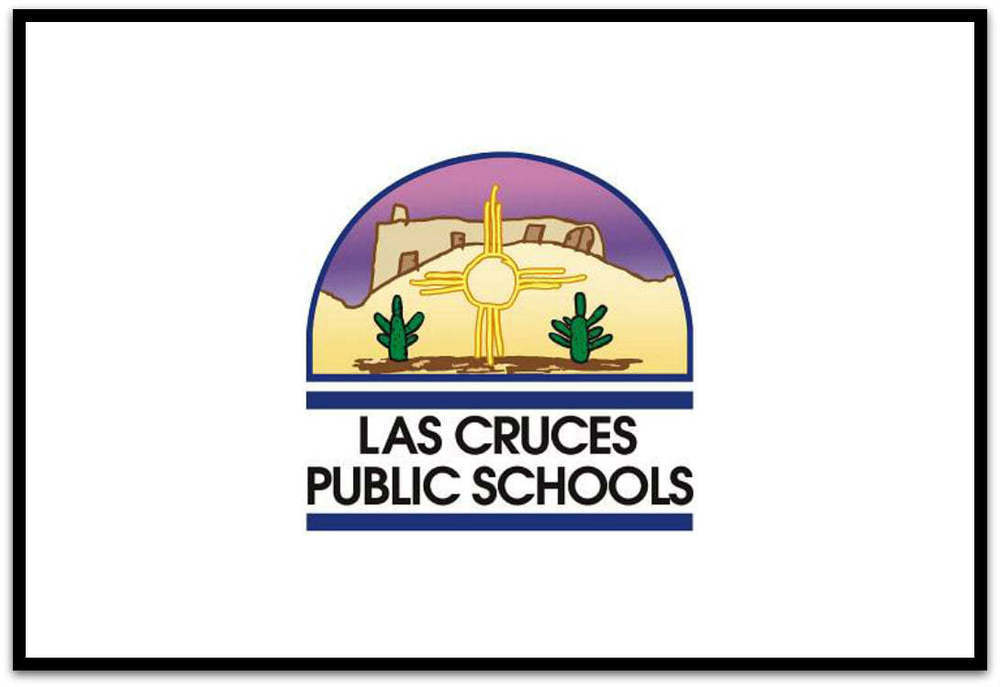 Thank you, Joe Hayes, Southwestern author/storyteller for spending the day at Jornada Elementary reading to students K-5. If you haven't read one of his books already, you're in for a real treat! You can catch more about his visit to Jornada Elementary on our next episode of Super News, coming out in February!

After a two year hiatus, the El Paso Symphony Youth Orchestras - EPSYO held its annual Concerto Competition on Monday, January 16, 2023. Las Cruces HS sophomore violinist, Chloe Morris, has won this year's competition. As grand prize winner, she will be performing the 1st movement of Édouard Lalo's Symphonie Espagnole on March 26 at the EPSYO Side by Side concert with the El Paso Symphony Orchestra. The competition was open to all musicians under the age of 23. BRAVA, CHLOE!!! Las Cruces Public Schools is so very proud of you! #wearelcps p/c: Lauren Morris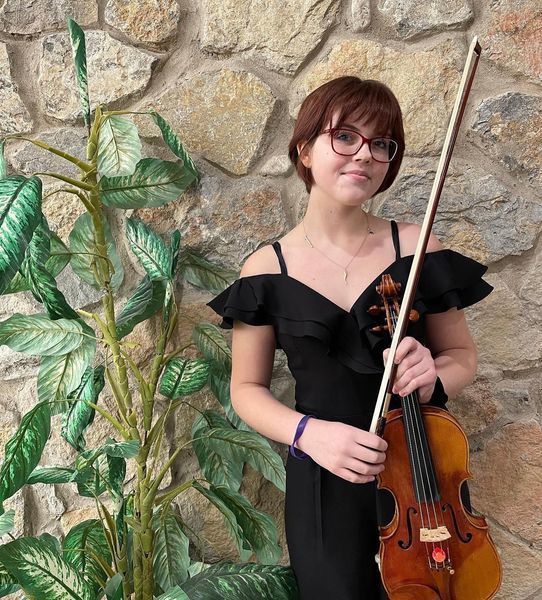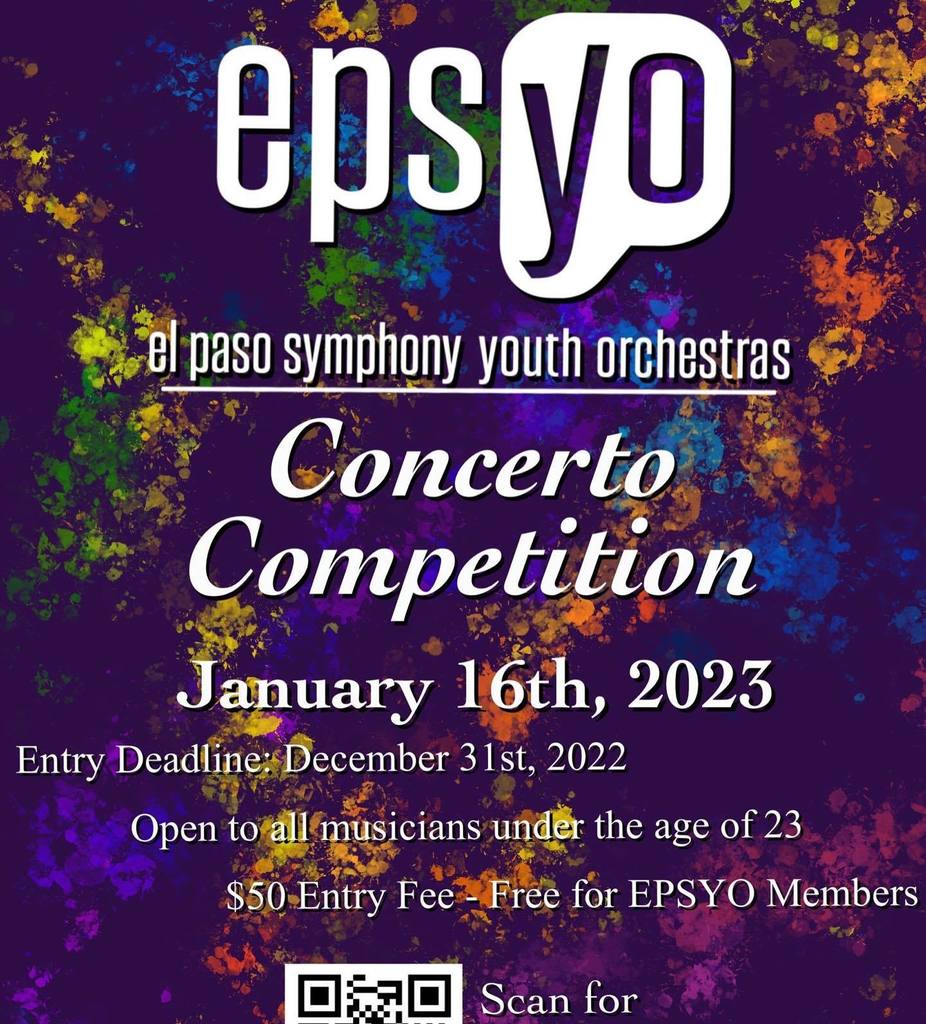 The Southern New Mexico Trail Alliance brings you the 11th annual running of the Sierra Vista Trail Runs. This event serves as the primary fundraiser for the Southern New Mexico Trail Alliance, a 501 (c)(3) corporation. The 2023 event will include the 50k, half-marathon, 10k, 5k, and 1-mile kids fun run. We keep the registration cost low to make trail racing financially accessible for more people. As always, race registration requires the donation of an old pair of shoes. Bring the shoes to packet pick up or race day. Donated shoes will be offered to the Mesilla Valley Community of Hope,
http://www.mvcommunityofhope.org/
. Click here to register:
https://ultrasignup.com/register.aspx?did=98958
Runners in all distances get a pair of race socks. Sizes cannot be guaranteed after February 18, 2023. Extras will be ordered but sizes and quantities will be limited and available on a first come first serve basis. There will be awards for top three men and women in all distances. Post race food will be provided. All races will take place on Saturday, March 11, 2023. All distances will start at the Sierra Norte trailhead off of Dripping Springs Road. The 50k will begin at 7:00am The half-marathon will begin at 8:00am. The 10k will begin at 9:00am. The 5k will begin at 8:30am. The cutoff time to finish will be 5:00 pm. All proceeds will be donated to the Southern New Mexico Trail Alliance to preserve and enhance the trails and outdoor recreation in the area. Visit us at snmta.org. Funds support trail work days, trail building workshops, training, and tools. Visit our website, Sierra Vista Trail Runs, for more information. Review the race manual at prior to the event. Come join us for a fun, low key community trail event. Banner photo of Ian Maddieson courtesy of Organ Mountain Outfitters, one of the past partners. The Sierra Vista Trail Runs is authorized under a Special Recreation Permit from the Bureau of Land Management Packet Pickup Packet pickup will be Friday, March 10, from 4-7 PM at Bluebird Running Company 300 N Main St, 2nd floor, Las Cruces, NM 88001


Congratulations to Lyric Corona, our LCPS student athlete of the week from Mayfield High School. Lyric plays basketball for the Trojans, she averages 17.1 points per game. Her coach says she is a hard worker and a great teammate who is always dependable. Great job, Lyric!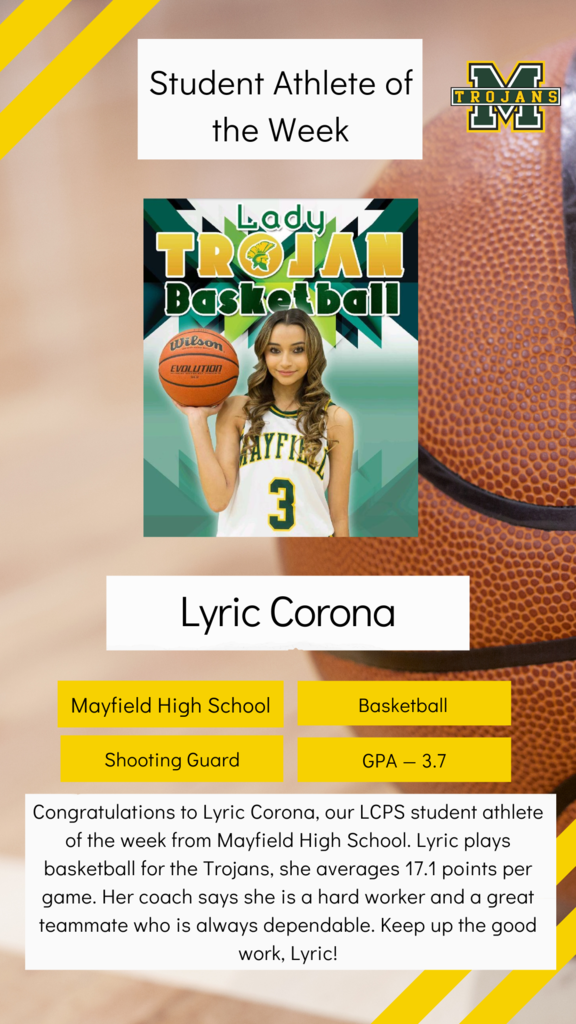 Shout out to AC Muñoz, our LCPS student athlete of the week from Mayfield High School. AC is a shooting guard for the Trojans, he averages 22 points & 6 rebounds per game. His coach says AC is a great listener, puts his team first, & is always doing what's right. Way to go, AC!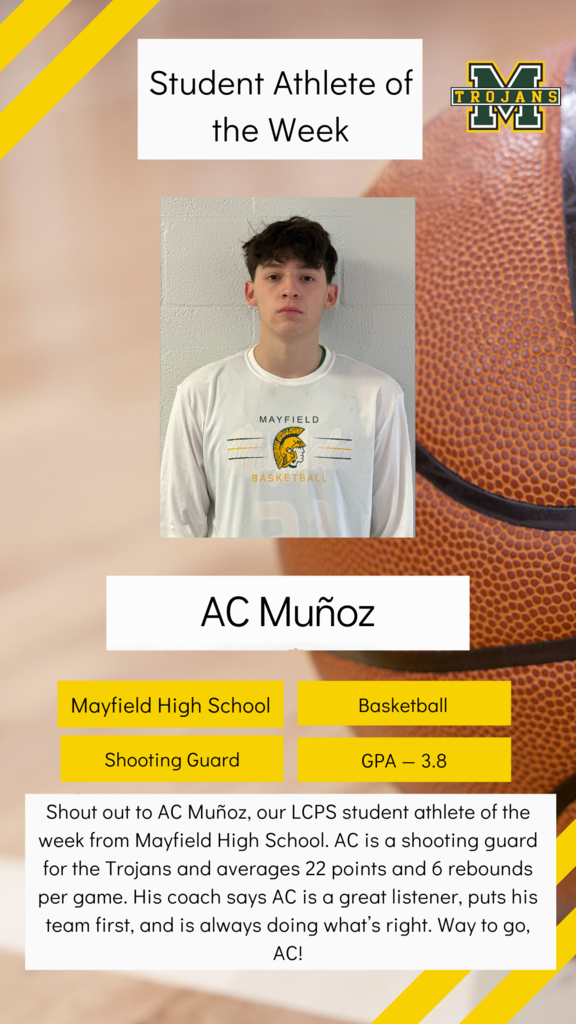 Interested in learning more about the Virtual Learning Academy? Join us tomorrow, Jan. 11, for our Parent Information Meeting from 5:30 to 6:30 p.m. on Zoom. Here's the link:
https://lcps.zoom.us/j/89924787551
Applications for VLA are due Friday, Jan. 20.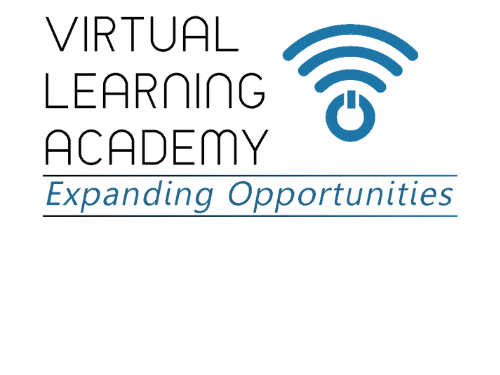 Dear Parents and Guardians, The Open House at Rio Grande Preparatory Institute scheduled for Wednesday, January 11, 2023, has been postponed until March. More information will be forthcoming when an exact date has been selected. During the next month or so, current 8th grade students will have the opportunity to reserve their spot for next year at one of the high schools within the Las Cruces Public School District (LCPS). We would like to encourage you to keep Rio Grande Preparatory Institute (RGPI) in mind as one of your student's high school choices next year. RGPI is a public high school serving grades 9-12 and is located in Mesilla, NM. RGPI offers academic pathways in Culinary Arts Media, and Career Exploration which are woven together into a Project-Based curriculum with serves as the foundation for our school. Bus transportation and free meals are available for all LCPS students. Please see the attached flyer that provides a snapshot of RGPI's school structure, programs, and contacts for enrollment. Applications for incoming 9th grade students are currently available until January 20, 2023 by clicking this link:
https://form.jotform.com/223134961813151
. An in-person interview is required as part of the application process and both students and parents/guardians are required to attend. Thank you for considering RGPI as your student's high school of choice. We can't wait to meet our new students next year! Please do not hesitate to reach out if you have any questions. Sincerely, Michelle Ronga, Principal
mronga@lcps.net
575-527-6058 Norma Arrieta, School Counselor
narrieta@lcps.net
575-527-6058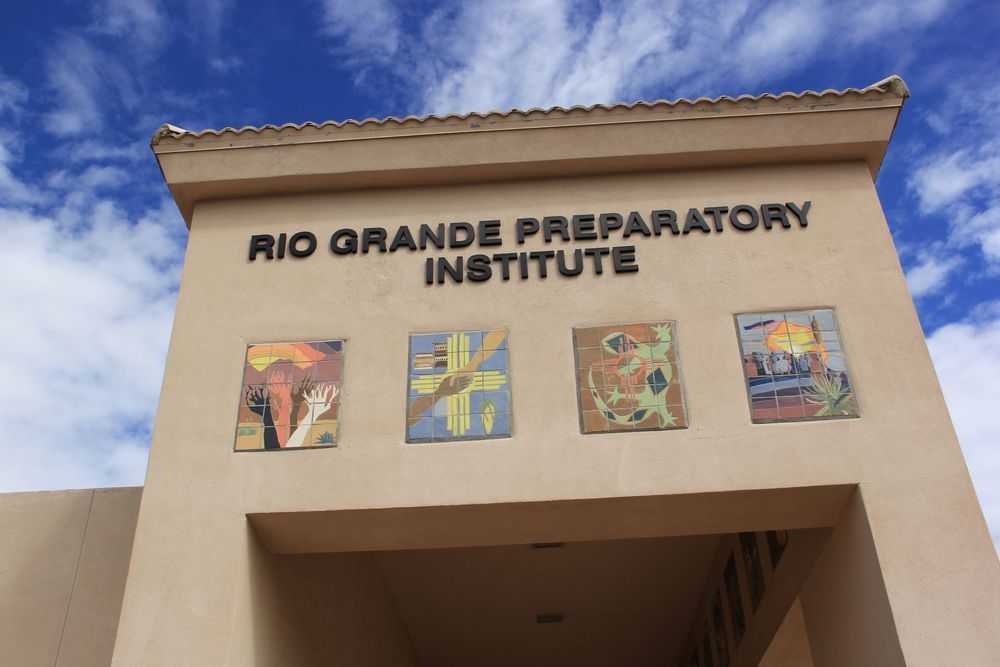 Lynn MS parents: As of 11:20 a.m., the lockdown has been lifted at Lynn and they are now sheltering in place. All students and staff are safe.

Lynn MS parents: As a precaution, our school was placed on lockdown at 10:33 a.m. because of police activity in the area. All students and staff are safe, and we will update you as more information becomes available.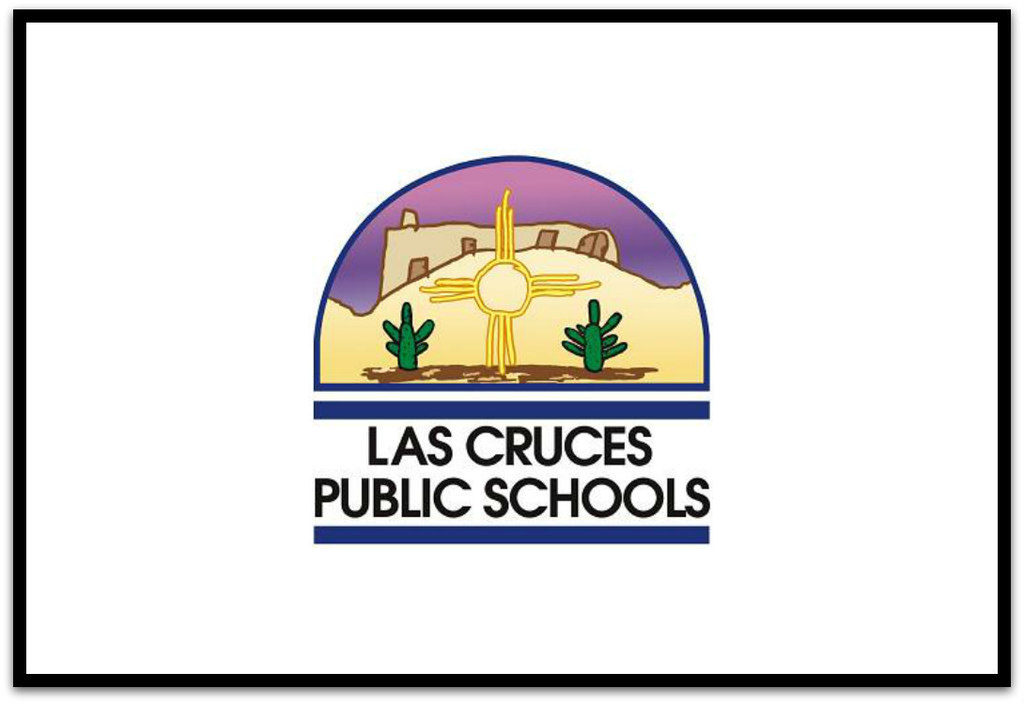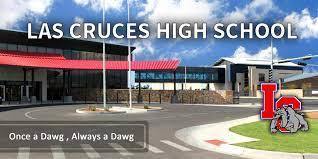 We need your input on funding priorities for LCPS! Our Community Budget Survey, which gauges where you think LCPS should allocate money, will close Friday, Jan. 6. If you haven't already taken it, would you take 10 minutes and click on this link? The survey is available in English and Spanish.
https://www.surveymonkey.com/r/finbudg2324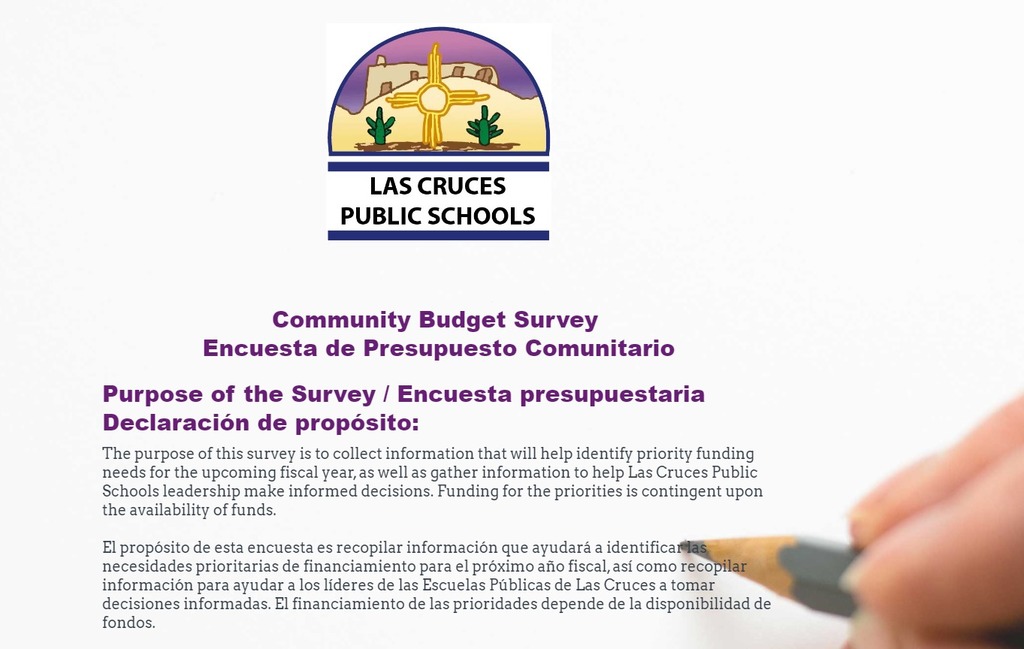 In September the district sent out lessons centered around Democracy Superheroes for all fourth and fifth grade teachers to implement with their students. These lessons were originally developed by Erika Graf-Webster with the League of Women Voters, David Nunez at Organ Mountain High and Josie Miller at the Teaching and Learning Center and then were modified for elementary students. The culminating activity had each student create his/her own Democracy Superhero. Teachers scored each student's submission with a given rubric and then submitted the two top scoring superheroes from their classroom to the district. A team from the TLC and League of Women Voters were given another rubric to score the submissions that were turned in. The top 4 from this submission were then put onto a ballot. All fourth and fifth graders were given an opportunity to vote on the Democracy Superhero that would represent the district. We are proud to announce that Zuriel Perez's Democracy Superhero has been chosen to represent the district. He created the Angel of Truth. The Angel of Truth's super power is making people tell the truth with his staff. This keeps the government honest and citizens are not able to lie to the government. If his golden cross staff is taken away, he is powerless. Zuriel states that to help our community, we should vote. This is how we can make sure the right people are running our city and country correctly. They will make sure our city and country is a safe place to live in.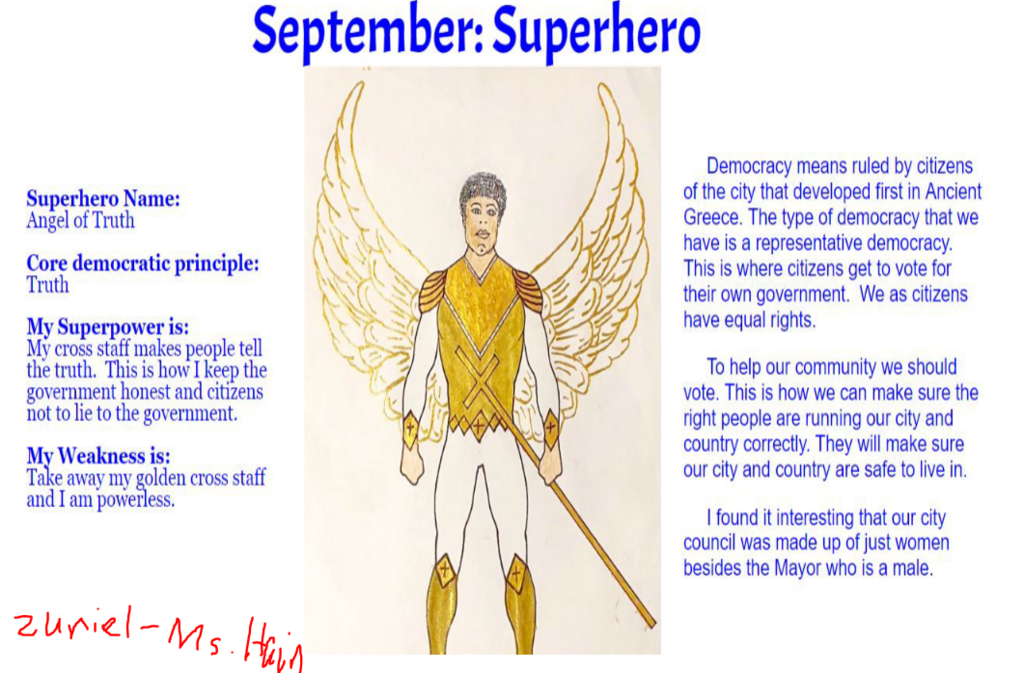 When it comes to college and career readiness, NM Grads focuses on both short and long term goal setting with young families to support high school graduation. Through dual-credit, advanced placement, and alternative educational opportunities, grads students receive comprehensive support in college and career readiness, and develop a career plan and portfolio including letters of recommendation, resumes and certificates. NM Grads, has been impacting multiple generations for over 20 years. We are pleased to announce that during a fall training in Albuquerque, Kissa Dixon, a wonderful educator from Arrowhead Park Early College High School was honored with the NM Grads Teacher Extraordinaire Award. Congratulations, Kissa Dixion!

Congratulations to Rachel Knight, Career Specialist at LCPS for being recognized earlier this month by the Association for Career & Technical Education (ACTE). Rachel Knight is now a 2022 National ACTE Experienced Fellow.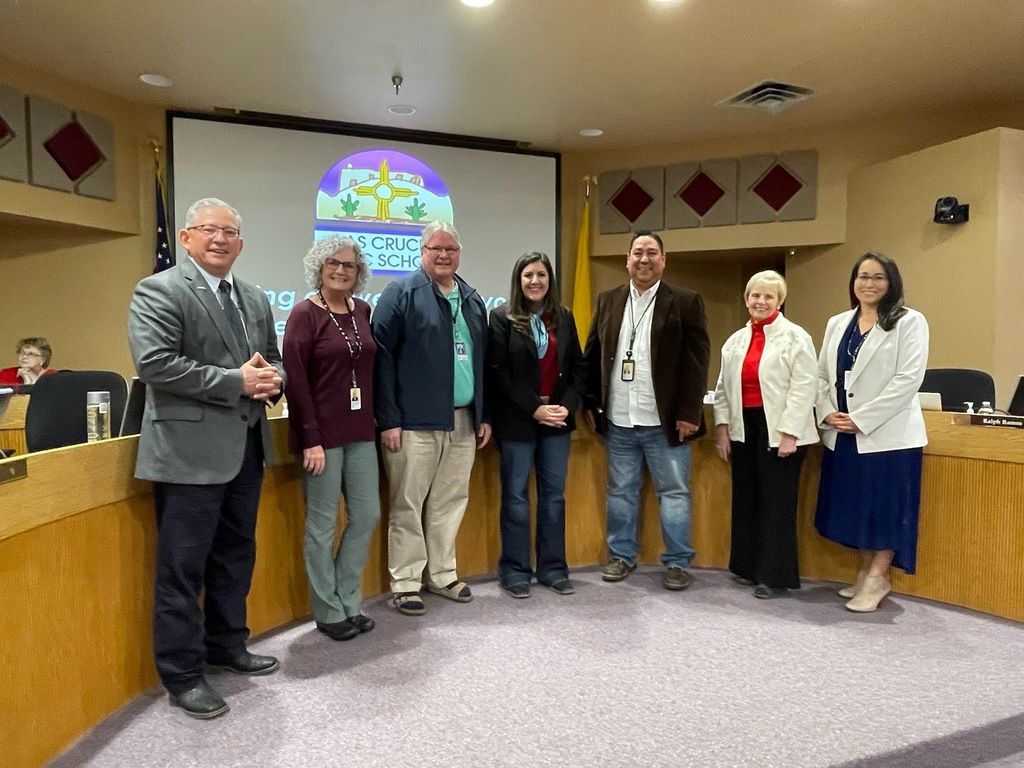 Congratulations to Mr. Michael Ogas for being selected as the 2022 National ACTE Teacher of the Year! Michael Ogas has been a teacher with LCPS for nine years, teaching science and medical classes. His current work includes providing medical pathways for students across our district as a career specialist with the career and technical education team. He also serves as the state president for the New Mexico association for career and technical education and was recently named the 2022 National ACTE Teacher of the Year. #NM #LasCruces

A big congratulations to all of our FFA Chapters at LCPS for competing and placing in the 95th National FFA Convention & Expo in Indianapolis! FFA National Awards - Las Cruces High School: LCHS Agrisience Animal Systems Division: Lacey Knight - 1st Place National Champion Livestock Evaluation- Gold Rated team • Gold Medal Individuals: Kaydens Koenig and Ayden Cox • Silver Medal Individuals: Joe Koenig and Preston Koenig Ag Sales- Silver Rated team • Gold Medal Individuals: Grant Robinson • Silver Medal Individuals: Paisley Anderson, Aubri Kehoe, and Jayden Miller Mayfield High School: Floriculture – Silver Rated team • Gold Medal Individual: Holly Norsworthy • Silver Medal Individual: Caelee Jimerson • Bronze Medal Individual: Emilie Dyer Environmental and Natural Resources (wildlife) – Bronze Rated Team • Silver Medal Individual: Madison Moeller • Bronse Medal Individuals: Andie Grooms, Jace Jimerson Kaelyn Darden received her American Degree Centennial High School: Vet Science Team: Silver Rated Team • Silver Medal Individuals: M'Kenna Price, Jasmin Montano, Kassandra Valdez • Bronze Medal Individual: Grace Longwell Food Science Team: Silver Rated Team • Gold Medal Individual: Ava Dickensheets • Silver Medal Individuals: Taylor Cantu, Hope Cannedy • Bronze Medal Individual: Emma Koenig 1 Star National Chapter Award – 2nd year in a row