Happy Cinco de Mayo! The fifth day in May, known as Cinco de Mayo, is a day that celebrates the Mexican army's victory over France during the Battle of Puebla in 1862. A year before the Battle of Puebla, Mexican President Benito Juarez suspended payment of all foreign debts. In retaliation, France invaded Mexico. Although a better-equipped French army outnumbered Mexican troops, Mexican soldiers in the town of Puebla prevailed victorious. It is important to remember that Cinco de Mayo is not Mexican Independence Day, a popular misconception, but a day that commemorates a single battle fought during the Franco-Mexican War. The Battle of Puebla on May 5, represented a great symbolic victory for the Mexican government and reinforced the resistance movement. Over time, the day evolved into a commemoration of Mexican culture and heritage celebrated particularly in Mexico and the United States. In celebration of this national holiday, traditions include military parades, recreations of the Battle of Puebla, parties, mariachi music, Mexican folk dancing, and other festive events. To learn more about the history behind Cinco de Mayo, visit
https://www.history.com/topics/holidays/cinco-de-mayo
.

Now accepting applications for the next kindergarten class at the Virtual Learning Academy! Does your child thrive in an environment with less distractions? Want to be more involved in your child's education? Enjoy a flexible, fully remote learning schedule with VLA. Enrollment is by application only. to register, visit
https://vla.lcps.net/o/vla
or use the QR code on this flyer.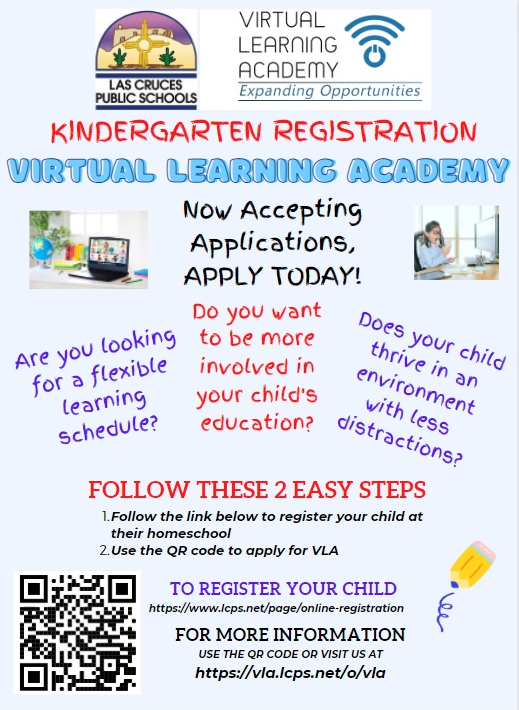 (Updated) The Class of 2022 Senior Walks at Elementary Schools! The goal of a Senior Walk is to give each senior a unique opportunity to physically walk back through the school that they attended (or may not have) during their elementary years. Seniors will be able to see former teachers, classmates, administrators that played a vital role in their elementary years. It will allow them to recall fond memories that they had within the school walls. Even more so, it will allow elementary students to see what their future has in store for them, have something to look forward to, and a chance to celebrate and cheer on the Seniors. Any Senior at any High School may attend these events; you do NOT have to have been a former student. Please plan to arrive 10-15 early to be lined up. You are more than welcome to participate in more than one walk to celebrate your accomplishments with elementary children. Seniors, please wear your Cap and Gown. Please see Ms. Saige at Organ Mountain High School for more information
msaige@lcps.net
- 575-527-9430.

Make a difference in a child's life and become an Educational Assistant! To learn more, stop by the LCPS Educational Assistant Job Fair Thursday, May 19 from 8 a.m. to noon at the Teaching and Learning Center, 505 S. Main St. Email
aschomburg@lcps.net
to schedule an interview.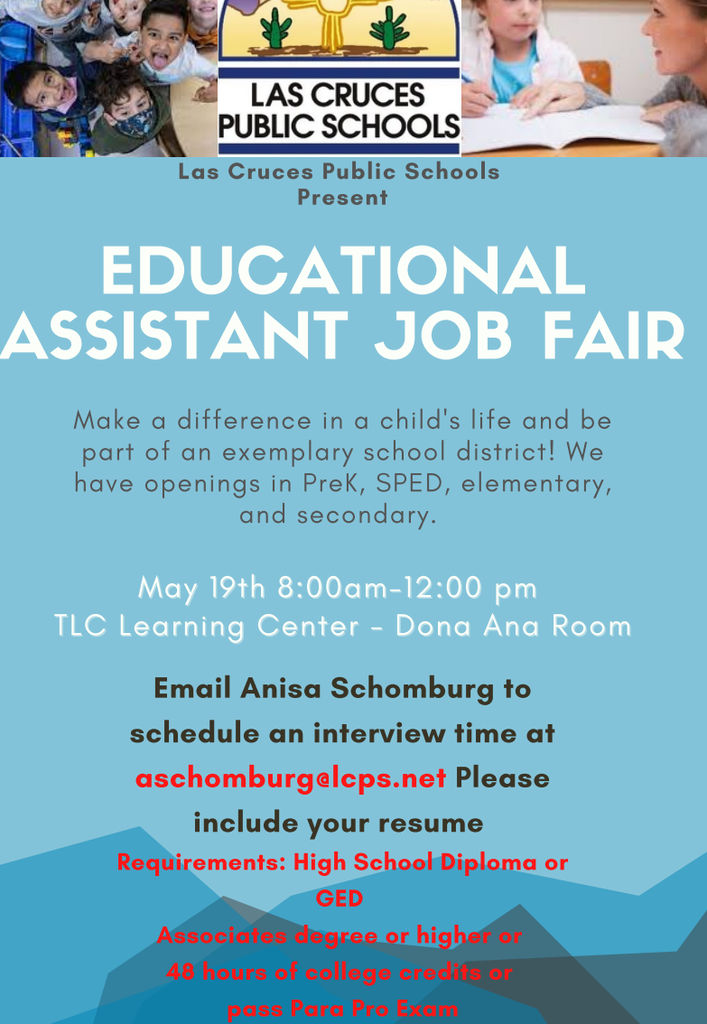 Las Cruces Public Schools is working with the New Mexico Public Education Department to host a Job Fair on May 6, from 9:00a.m. to 3:00p.m. Please email Cindy Donnelly to schedule an interview
cdonnelly@lcps.net

Registration is now open for Advanced Pre-K! The Las Cruces Public Schools Advanced Pre-K classroom is designed to serve students who do not meet the age requirements to start kindergarten and exhibit characteristics of advanced learning, as measured by screenings. The program is a collaboration between New Mexico State University (NMSU) and Las Cruces Public School (LCPS) and serves as a lab school for NMSU early childhood programs. The program is a collaboration between New Mexico State University (NMSU) and Las Cruces Public School (LCPS) and serves as a lab school for NMSU early childhood programs. Six slots in the program are reserved for children of NMSU students and staff. Registration:
https://forms.gle/RMux1u7pY2ubVGDL9
Learn more:
https://www.lcps.net/page/advanced-prek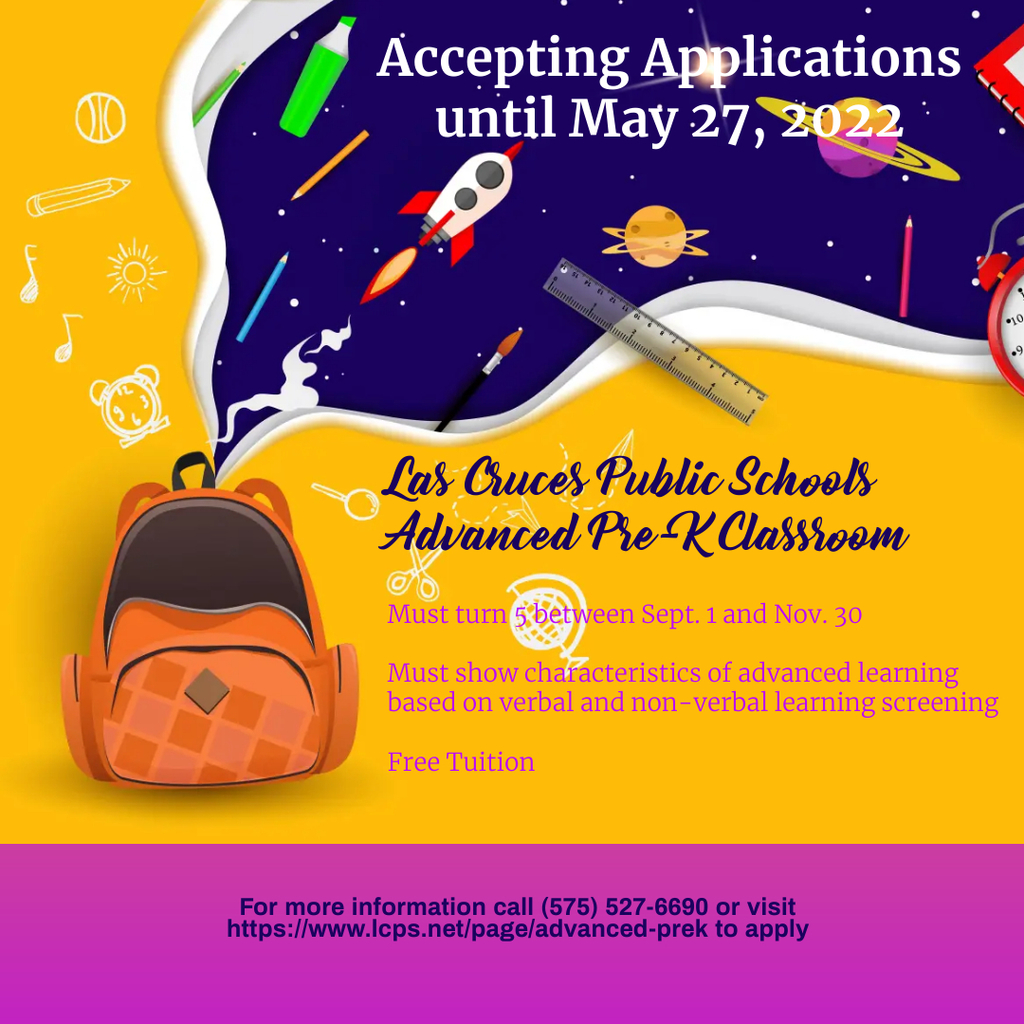 Did you know that the late LCPS Superintendent, Dr. Karen Trujillo, was a poet? In order to honor her legacy, there will be an award ceremony for the best poem held on May 12, 2022, at 3:00 p.m. in the Commons area at Organ Mountain High School, located at 5700 Mesa Grande Dr, Las Cruces, NM 88011. The top three student winners will be reading aloud their winning poems. Ben Trujillo from the Dr. Karen M Trujillo Memorial Foundation will be there to hand the students their cash prizes. A jury of five area English teachers chose the following winners: $500 First Place goes to Mariana Tablon for her poem "Self-Sabotage", $250 Second Place goes to Delilah Garcia for her poem "Overwhelmed", and $100 Third Place goes to Melaina Mittel for her poem "The Lies Are Before the Foothill." For questions, please contact Tim Staley, area poet and educator, who oversaw this inaugural contest.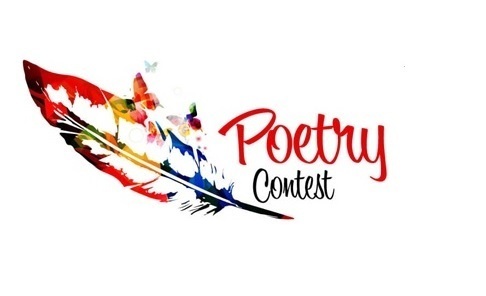 The City of Las Cruces Parks & Recreation Department is gearing up for the summer months and would like to extend an invitation to students in grades, K-5 to join us for our Summer Recreation Program. A six-week Program will begin on Tuesday, May 31 for students that are currently enrolled in grades K-5, and end on Wednesday, July 13. Register here at:
www.las-cruces.org/play
Important details are listed below: ● Program time is 8:00 AM – 5:00 PM, Monday – Friday ● Dates: Tuesday, May 31 – Wednesday, July 13 ● No Program Monday, June 20 or Monday, July 4 ● Programming will be held at: Camino Real, Picacho, & Sierra Middle schools ● Breakfast and Lunch will be provided at no cost for all participants

Do you enjoy a good breakfast? Indulge in some delicious pancakes this Saturday at RGPI from 8-11a.m. to help support students. See flyer for more information!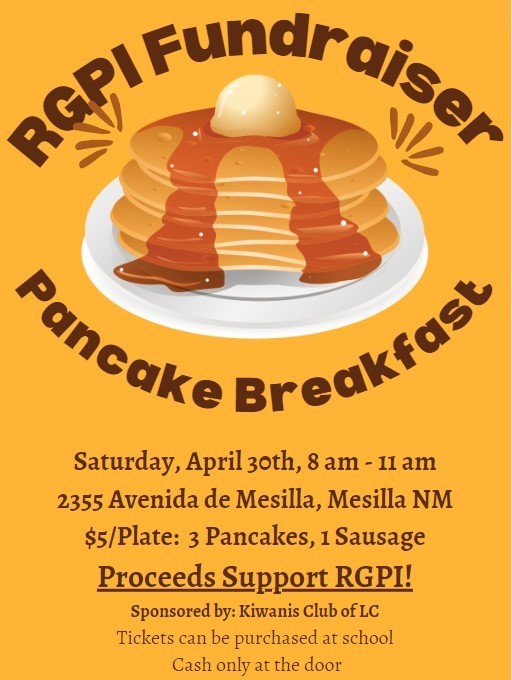 Premier Medical Group (PMG) will be offering free COVID-19 vaccines to the community, April 19-25. Vaccines will be offered at the Las Cruces PMG office located at 1001 N. Solano Suite A Las Cruces, NM, 88001. Boosters and primary doses for Pfizer will be offered to those ages 12 and up. Primary doses for Pfizer will also be available to children ages 5-11. Walk-ins are welcome. No ID or insurance is necessary. For more information, please view the flyer: Premier Medical Group (PMG) ofrecerá vacunas COVID-19 gratuitas a la comunidad, del 19 al 25 de abril. Las vacunas se ofrecerán en la oficina de Las Cruces PMG ubicada en 1001 N. Solano Suite A Las Cruces, NM, 88001. Se ofrecerán refuerzos y dosis primarias de Pfizer a partir de los 12 años. Las dosis primarias de Pfizer también estarán disponibles para niños de 5 a 11 años. Walk-ins son bienvenidos. No se necesita identificación ni seguro. Para obtener más información, consulte el folleto: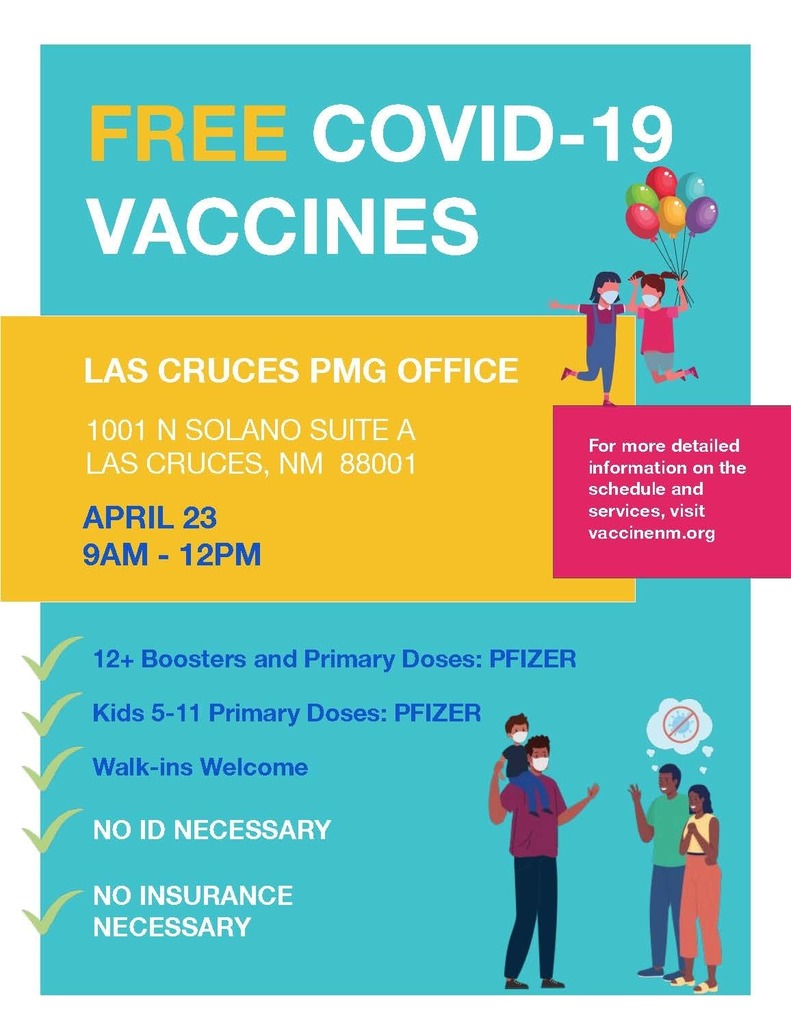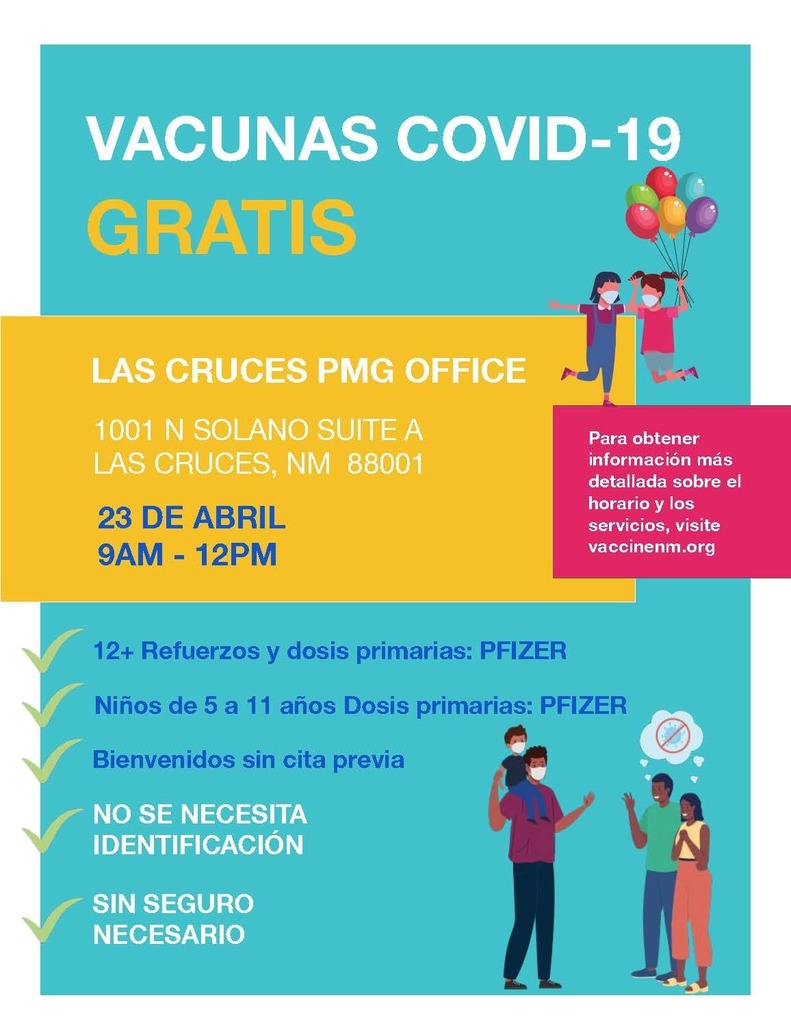 The PMG testing sites at LCHS, OMHS, CHS, MHS and Sierra will be closed for Spring Holiday on Friday, April 15th and Monday, April 18th. They will reopen with their normal hours on Tuesday, April 19th. PMG will begin offering Pfizer vaccines at Las Cruces High School from 12-6pm every Thursday in a drive-thru capacity beginning Thursday, April 21st. Los sitios de prueba de PMG en LCHS, OMHS, CHS, MHS y Sierra estarán cerrados por vacaciones de primavera el viernes 15 de abril y el lunes 18 de abril. Reabrirán con su horario normal el martes 19 de abril. PMG comenzará a ofrecer vacunas de Pfizer en la Escuela Secundaria Las Cruces de 12 a 6 p. m. todos los jueves en un servicio de autoservicio a partir del jueves 21 de abril.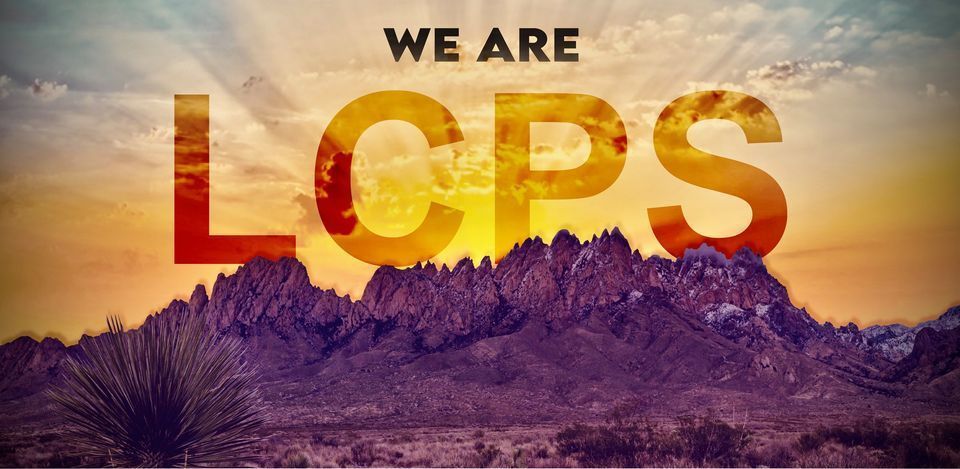 Now hiring! LCPS has added another date next week to our Speech and Language Pathologist job fair. Come work for the best school district in the state with a competitive salary and benefits package. Email Sherley O'Brien at
sobrien@lcps.net
for an interview.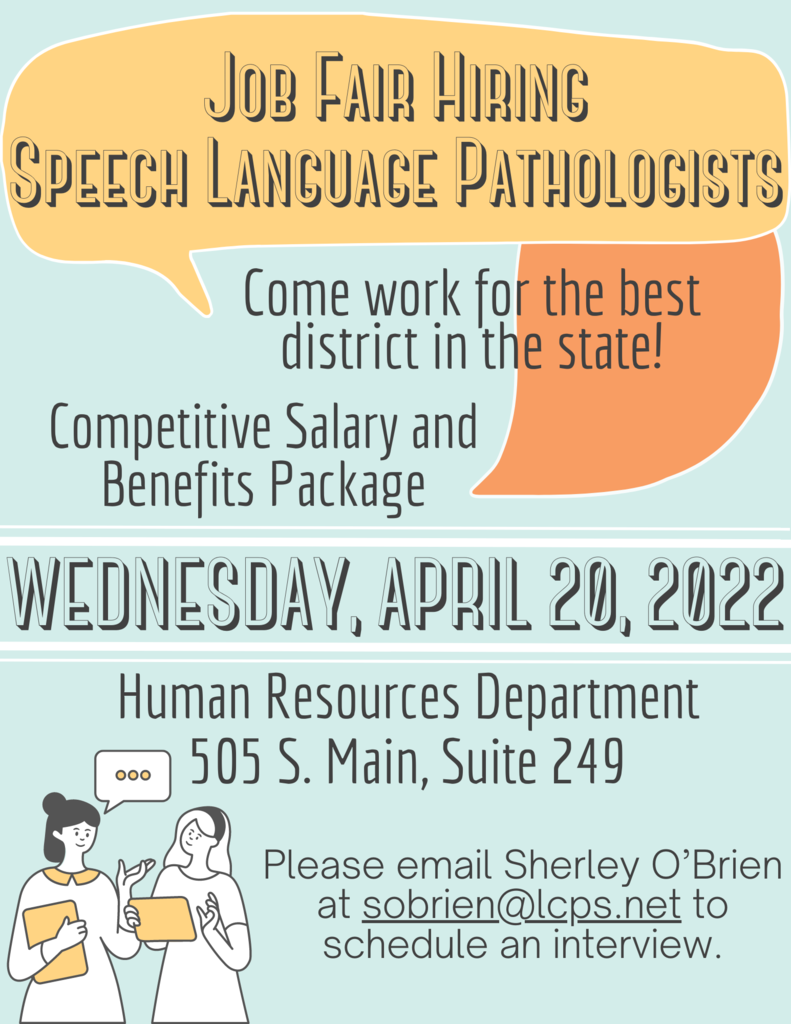 Who: All students from Gadsden Independent School District (GISD), Hatch Valley Public Schools (HVPS), and Las Cruces Public Schools (LCPS) exiting grades 5-8 in May 2022. What: Students may participate in up to two (2) camps during Summer 2022, including the option of two camps during the same week. Maximum camp capacity is 15 students per camp session. All campers, instructors, and staff are welcome to wear face coverings if they choose, even if not required by current orders and policies. Please see all our COVID-19 safety practices and policies here. All camps will follow the current New Mexico State Public Health Order , NMPED "COVID-19 Response Toolkit for New Mexico's Public Schools" , NMAA guidelines, and NMSU policies. When: Camps run Monday–Friday in June 2022. Camps are offered in morning and afternoon sessions. Please see the camp descriptions below for exact dates and times. Where: Camps will meet in-person on the NMSU Main Campus unless otherwise specified in the camp descriptions (see below). Details on drop-off and pick-up times and locations will be sent at least one (1) week before the camp starts. Cost: All NMSU STEM Outreach Center summer camps are FREE. Our camps are funded by local and state grants that support out-of-school time programs. Transportation: Participants must provide their own transportation to and from STEM Outreach Center camps. Exceptions: GISD will provide buses to and from camps for registered students the week of June 6-10, 2022. HVPS will provide buses to and from camps for registered students the week of June 13-17, 2022. Food: Snacks: Camps will provide pre-packaged snacks for campers each day. If you have special dietary needs, please let us know on the registration form and we will do our best to accommodate you. Lunches: The STEM Outreach Center is partnering with the FYI Summer Food Program to provide free lunches to all campers. All lunches must be eaten on site. Please let us know on the registration form if you plan to eat lunch with us. At this time, the Summer Food Program is not able to accommodate special dietary needs. Registration:
https://stemcenter.nmsu.edu/out-of-school-time-programs/sp-summer-camp-eng.html

Las Cruces Public Schools is proud to host its Spring Literacy Extravaganza, Thursday April 14 from 4 to 7 p.m. at the Plaza de Las Cruces. Meet local authors and engage in literacy activities. Attendees are encouraged to dress up as their favorite storybook character!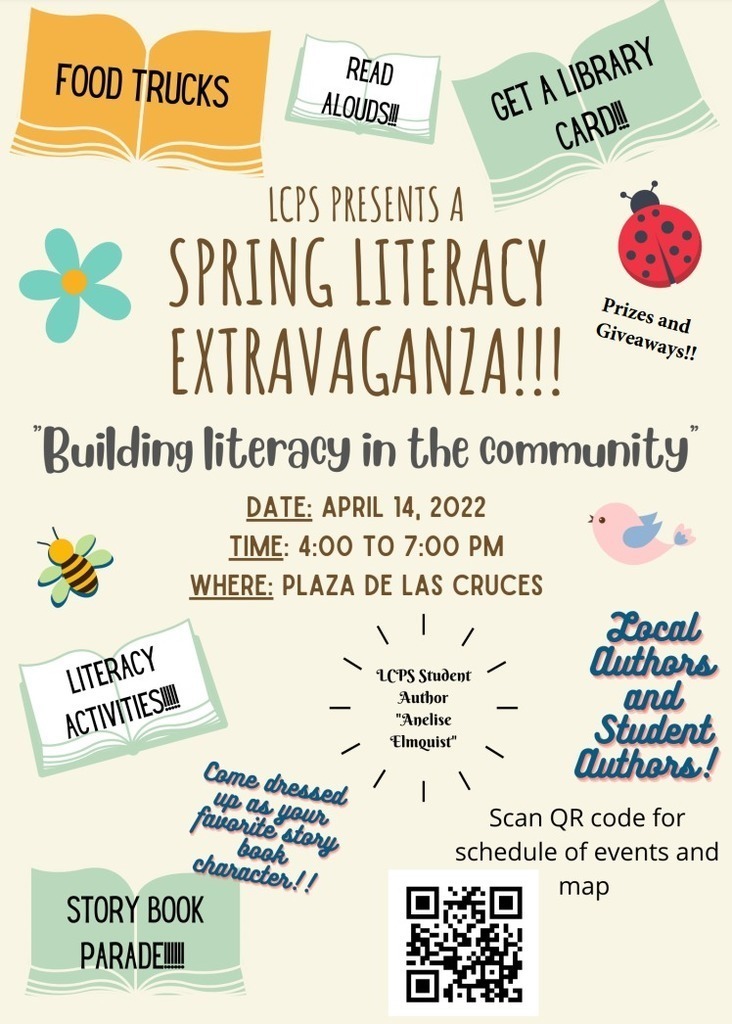 TUESDAY WEATHER CANCELATIONS: Today's high winds have canceled all tennis matches and sub-varsity baseball.

The LCPS Foundation's Trivia Night scheduled for tonight, April 12, at the Game II has been canceled due to strong winds.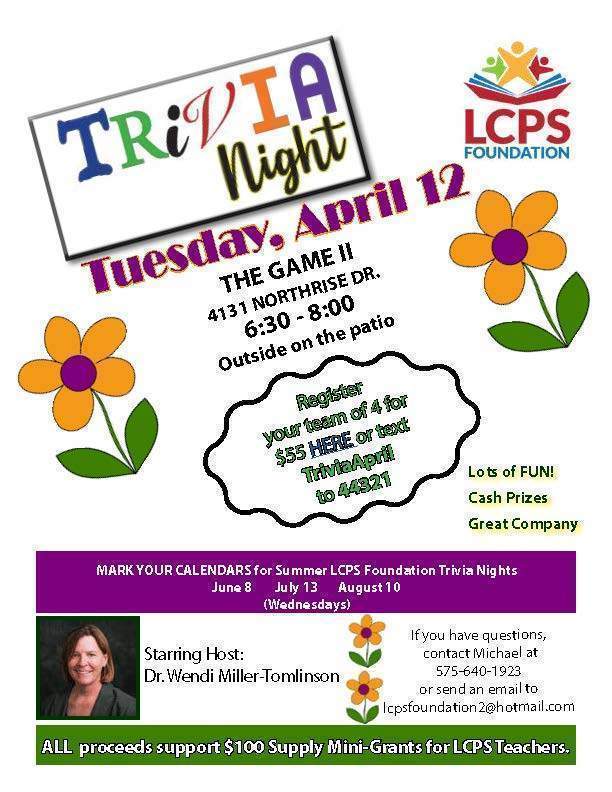 Las Cruces Public Schools will be hosting a job fair hiring language speech pathologists on Wednesday, April 13, 2022 at the Karen M. Trujillo Administrative Building, located at 505 S. Main, Suite 249. If you are interested in joining team LCPS, please email Sherley O'Brien at
sobrien@lcps.net
to schedule an interview.

We are go for launch! Join us at the @mesillavalleymall from 1-7 for the art exhibit "Across Space" and from 5.30 for the career event "making contact". Both locations are on the north side of the mall (near Barnes and Noble). #lcspacefestival #lascruces #goforlaunch #mesillavalleymall #acrossspace #spaceart #makingcontact #careernight #newmexico #makingspaceforeveryone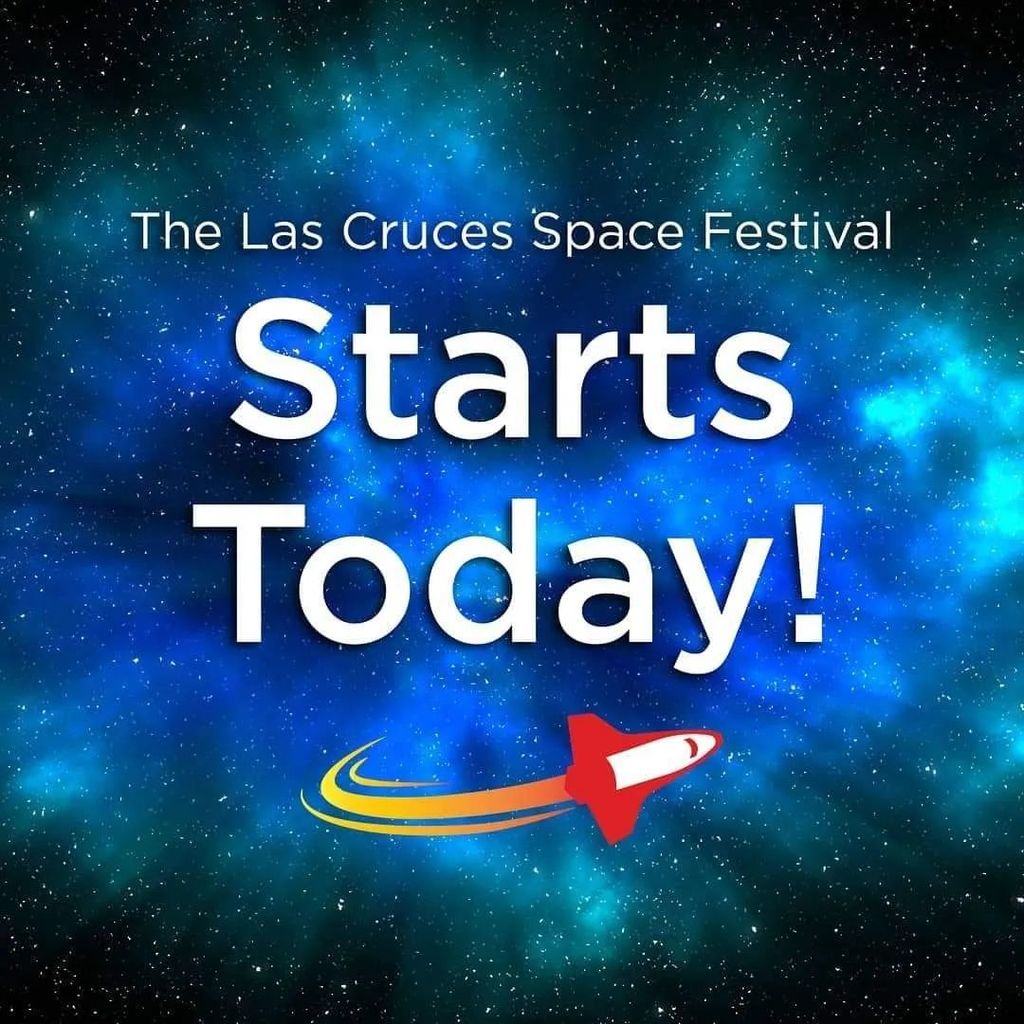 LCPS TRAFFIC ADVISORY Please be advised that a simulated DWI crash will be staged near Las Cruces High School on Thursday, April 7. The exercise is part of the annual "Shattered Lives" event organized by area law enforcement to educate our students about the impact and consequences of impaired driving. To accommodate, Boutz Road will be closed from 5:30 a.m. to approximately noon. LCHS students and staff will need to plan accordingly, and parents who use Boutz to access other schools in the district are advised to seek an alternate route Thursday morning. AVISO DE TRAFICO DE LCPS Le informamos que un accidente de DWI simulado se llevará a cabo cerca de Las Cruces High School el jueves, 7 de abril. La actividad es parte del evento anual "Shattered Lives" (vidas destrozadas) organizado por las fuerzas policiales del área para educar a nuestros estudiantes sobre el impacto y las consecuencias de conducir en estado de ebriedad. Para dar cabida, Boutz Road estará cerrada de 5:30 am hasta aproximadamente mediodía. Los estudiantes y el personal de LCHS tendrán que planificar en consecuencia, y se aconseja a los padres que usan Boutz para llegar a otras escuelas en el distrito que busquen una ruta alternativa el jueves por la mañana.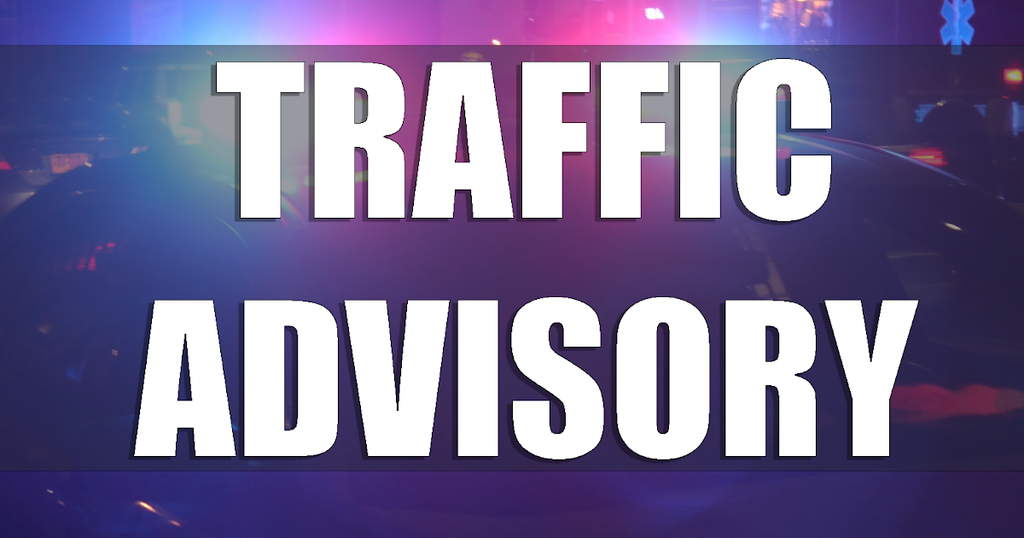 You are happily engaged to attend Trivia Night held by the LCPS Foundation on Tuesday, April 12 at the Game II located at 4131 Northrise Dr. from 6:30 p.m. to 8:00 p.m. Starring host is Dr. Wendi Miller-Tomlinson, Deputy Superintendent of the Division for Teaching, Learning, Leadership, and Research. All proceeds support $100 Supply Mini-Grants for LCPS teachers. Register your team of 4 for $55 Here or text TriviaApril to 44321. Come defend your title, redeem yourselves or join in the fun for the first time! Teams consist of 4 members for a fee of $55. You may register more than one team at a time. All team members will be registered under the name of the person who completes this process. Click here to download the flier for more information:
https://5il.co/186g0