What's happening in our agriculture classes at Las Cruces High School? Students in Mr. Pereas's advanced Metal Fabrication are already back to work after the break! Students have created the 2022 Dona Ana County Fair Grand and Reserve Grand awards using a plasma cam. Las Cruces FFA is proud to sponsor these awards!

Update: Important updates on boosters, vaccination clinics and testing opportunities According to updated guidance from the Public Education Department, staff are not considered fully vaccinated unless you receive your booster by Jan. 17, 2022 - or are less than six months from your second dose (or a single dose of the Johnson & Johnson vaccine). Currently, employees who are not fully vaccinated will be required to surveillance test once a week beginning Jan. 17. To help get everyone in compliance, LCPS will host a vaccination clinic with assistance from the Office of Emergency Management and the NM Department of Health on Jan. 7, 2022 at the former DMV location adjacent to the Dr. Karen M. Trujillo Administration Complex from 10 am. to 2 p.m. To reserve a spot, please use the DOH portal,
www.vaccinenm.org
, and use the event code LCPS2022. If you would like to get your vaccine sooner, PMG will be hosting Covid vaccine clinics with the Pfizer vaccine on Mondays at the New Mexico Farm and Ranch Heritage Museum, 4100 Dripping Springs Road, from 10 a.m. to 4 p.m. and on Wednesdays from 10 a.m. to 4 p.m. at the Doña Ana County Government Center on Motel Boulevard. Registration is available on the DOH portal:
www.vaccinenm.org
. Over the winter break, LCPS will continue to host three testing sites for students and staff. Those sites will be at Las Cruces High School, Mayfield High School and Organ Mountain High School Monday through Friday from 8 a.m. to 5 p.m. except for Dec. 24. De acuerdo con las pautas actualizadas del Departamento de Educación Pública, el personal no se considera completamente vacunado a menos que reciba su refuerzo antes del 17 de enero de 2022, o estén a menos de seis meses de su segunda dosis (o una dosis única de la vacuna Johnson & Johnson). Actualmente, los empleados que no estén completamente vacunados deberán someterse a una prueba de vigilancia una vez a la semana a partir del 17 de enero. Para ayudar a que todos cumplan, LCPS albergará una clínica de vacunación con la ayuda de la Oficina de Manejo de Emergencias y el Departamento de Salud de Nuevo México el 7 de enero de 2022 en la antigua ubicación del DMV adyacente al Complejo de Administración Dr. Karen M. Trujillo de 10 am. a las 2 p.m. Para reservar un lugar, use el portal del DOH,
www.vaccinenm.org
, y use el código de evento LCPS2022. Durante las vacaciones de invierno, LCPS continuará albergando tres sitios de pruebas para los estudiantes y el personal. Esos sitios estarán en Las Cruces High School, Mayfield High School y Organ Mountain High School de lunes a viernes de 8 a.m. a 5 p.m. excepto el 24 de diciembre.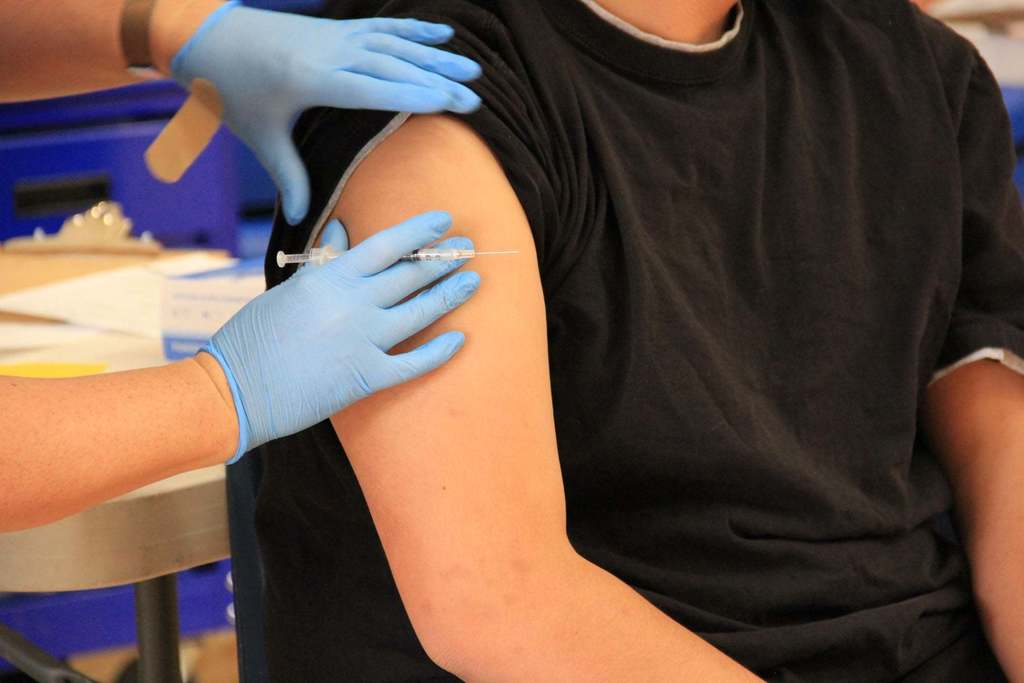 COVID-19 Test Sites at LCPS The following locations are available for Test to Stay, surveillance and symptomatic testing for students and staff: Las Cruces High School 7 a.m. – 6 p.m. M-F / de lunes a viernes B-Wing Lot on East Side of Campus En el lote del ala B en el lado este del campus Organ Mountain High School 7 a.m. – 6 p.m. M-F/ de lunes a viernes Parking Lot on East Side of Campus/ En el estacionamiento en el lado este del campus Mayfield High School 7 a.m. – 6 p.m. M-F/ de lunes a viernes Staff parking lot, east side/En el estacionamiento del personal, lado este Sierra Middle School 9:30 a.m. - 3 p.m. M-F/ de lunes a viernes West side of campus in parking lot next to gym/ En el lado oeste del campus en el estacionamiento junto al gimnasio Mesa Middle School 9:30 a.m. - 3 p.m. M-F/ de lunes a viernes Front parking lot/ En el estacionamiento de enfrente Conlee Elementary 9 a.m. - 1 p.m. M-F/ de lunes a viernes North parking lot off Montana/ Estacionamiento norte el lado de Montana Tombaugh Elementary 9 a.m. - 1 p.m. M-F/ de lunes a viernes Front parking lot/ En el estacionamiento de enfrente Alameda Elementary 9 a.m. - 1 p.m. M-F/ de lunes a viernes South parking lot/ En el estacionamiento sur


Thank you families for your patience while we worked on getting your children home with food for the winter break. Food will still be available for students who were absent yesterday and can be picked up today at our 11:00 a.m. dismissal. Otherwise, it will be sent home on the bus with the student.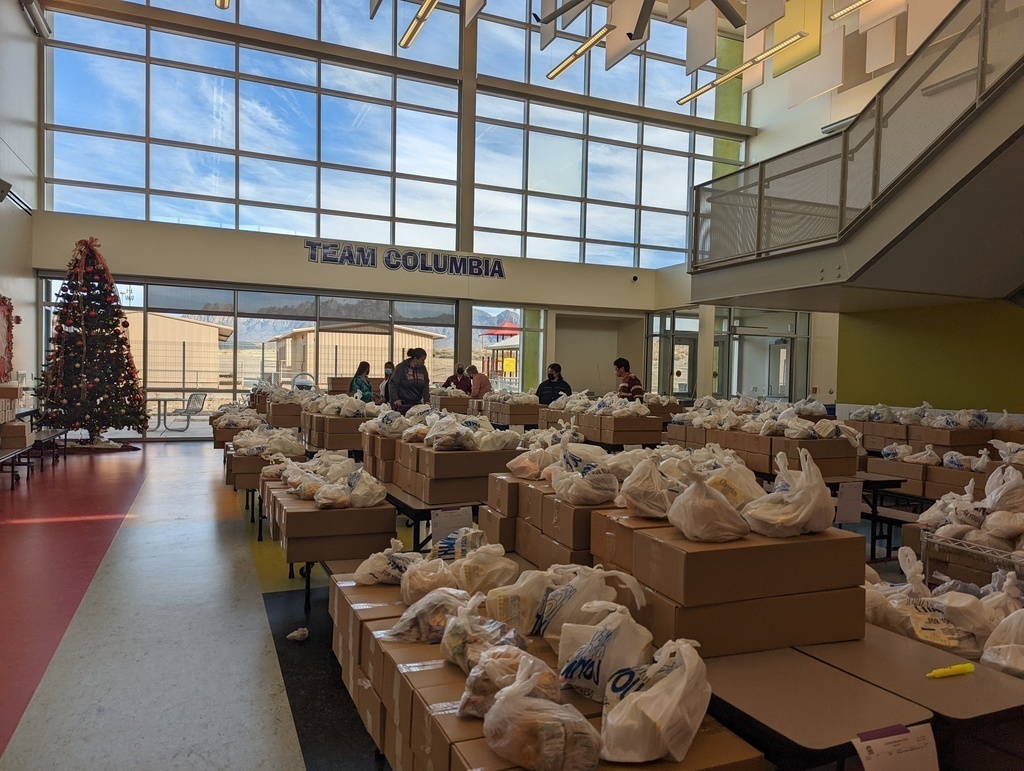 Thank you to Highland Elementary School for celebrating your spirit week with Jardin and bringing us socks to keep our children warm! 🧦❤️#helpingchildrenandfamiliesflourish #warmandcozy #warmhearts #community #ignitinghope #empowerment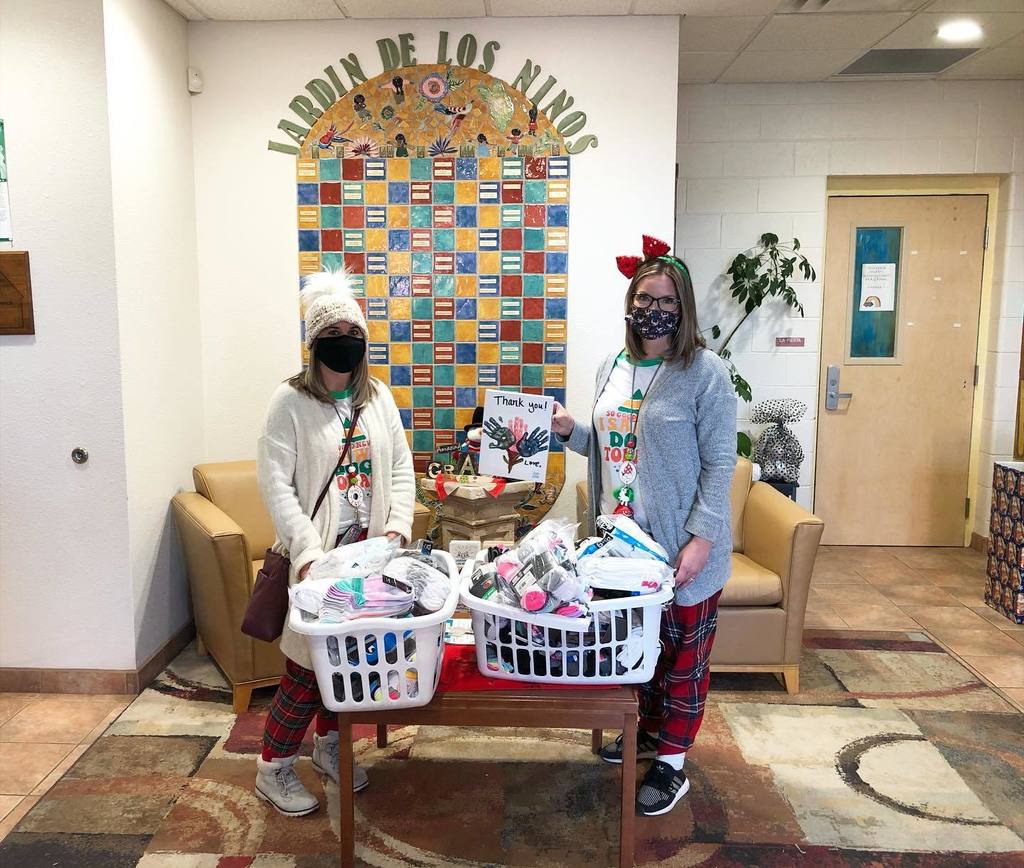 Dear LCPS Families, Las Cruces Public Schools has become aware of a troubling post that has been shared widely this week on the social media platform TikTok. The post refers to a threat to school safety "for every school in the USA, even elementary," on Friday, December 17. The post appears to be part of a national TikTok trend and did not originate in our school district. We have heard reports from other districts that the same post is circulating in their schools. While we do not believe the threat to be credible, we are closely monitoring the situation and taking it seriously. Additionally, the district has been in contact with the Las Cruces Police Department regarding the post. We may have an increased police presence in our buildings on Friday as an added precaution. This situation serves as a good example of why it is important to avoid sharing posts online that refer to school safety threats. Even if they are not credible threats, they can cause a great deal of stress and anxiety for our students, families, and staff. We ask our families to monitor their children's social media activity and speak with them about proper behavior online. If you or your child become aware of any potential threat posted to social media or anywhere else, please notify a school staff member or trusted adult right away. As always, thank you for your partnership as we work to ensure a safe, secure, and positive learning environment for our students. Sincerely, LCPS Administration Estimadas familias de LCPS: Las Escuelas Públicas de Las Cruces (LCPS, por sus siglas en inglés) se ha enterado de una publicación preocupante que se ha compartido esta semana ampliamente en la plataforma de redes sociales TikTok. La publicación se refiere a una amenaza a la seguridad escolar el viernes 17 de diciembre "para todas las escuelas en los Estados Unidos, incluyendo la primaria". La publicación parece ser parte de una tendencia nacional de TikTok y no se originó en nuestro distrito escolar. Hemos escuchado informes de otros distritos de que el mismo correo está circulando en sus escuelas. Consideramos que la amenaza no es creíble, sin embargo estamos monitoreando de cerca la situación y tomándola en serio. Además, el distrito se ha puesto en contacto con el Departamento de Policía de Las Cruces con respecto a la publicación. Es posible que tengamos una mayor presencia de la policía en nuestros edificios el viernes como precaución adicional. Esta situación sirve como un buen ejemplo de por qué es importante evitar compartir publicaciones en línea que se refieran a amenazas a la seguridad escolar. Incluso si no son amenazas creíbles, pueden causar mucho estrés y ansiedad a nuestros estudiantes, familias y personal. Pedimos a nuestras familias que controlen la actividad de sus hijos en las redes sociales y hablen con ellos sobre el comportamiento adecuado en línea. Si usted o su hijo se dan cuenta de alguna posible amenaza publicada en las redes sociales o en cualquier otro lugar, notifique a un miembro del personal de la escuela o un adulto de confianza de inmediato. Como siempre, gracias por su colaboración mientras trabajamos para garantizar un entorno de aprendizaje seguro y positivo para nuestros estudiantes. Atentamente, Administración LCPS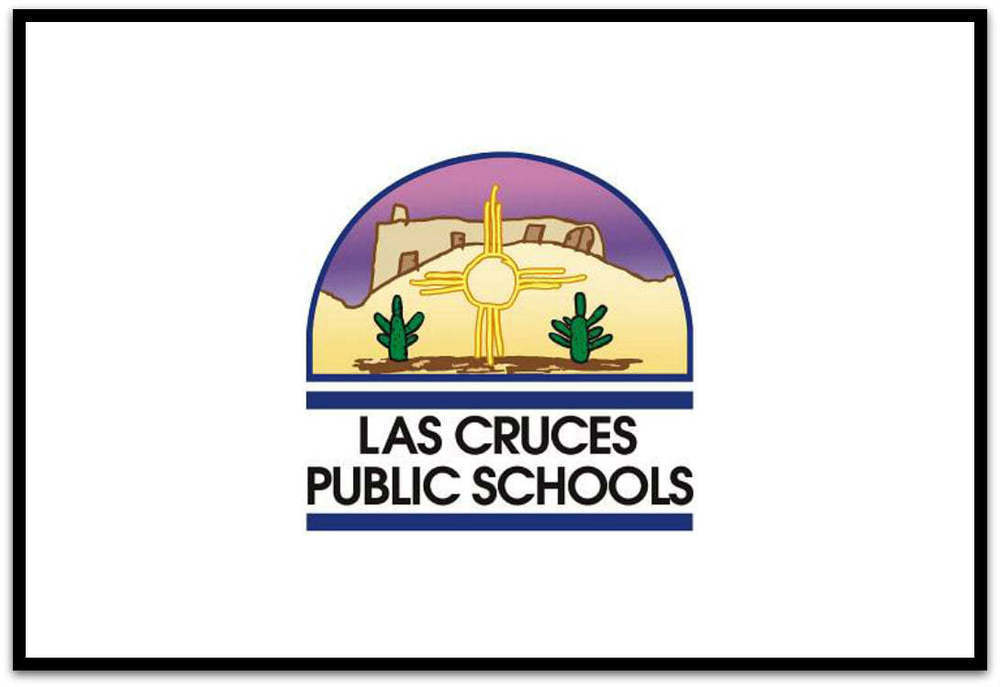 It's everything LCPS, in your pocket. Las Cruces School District is launching a new mobile app that helps students, parents, and community members know what is happening on campus, right from their phones. We know that families are using smartphones as a primary means to communicate. That's why we've created an app that is custom-built for mobile. On the app, you can find documents, contact information for staff, and event information. You can download the app for free from the Apple App Store or Google Play.

Thank you, Señora Maria Flores for your advocacy and lifetime support serving the students of Las Cruces Public Schools. You served your community with honor and distinction as both an educator and board member. Thank you!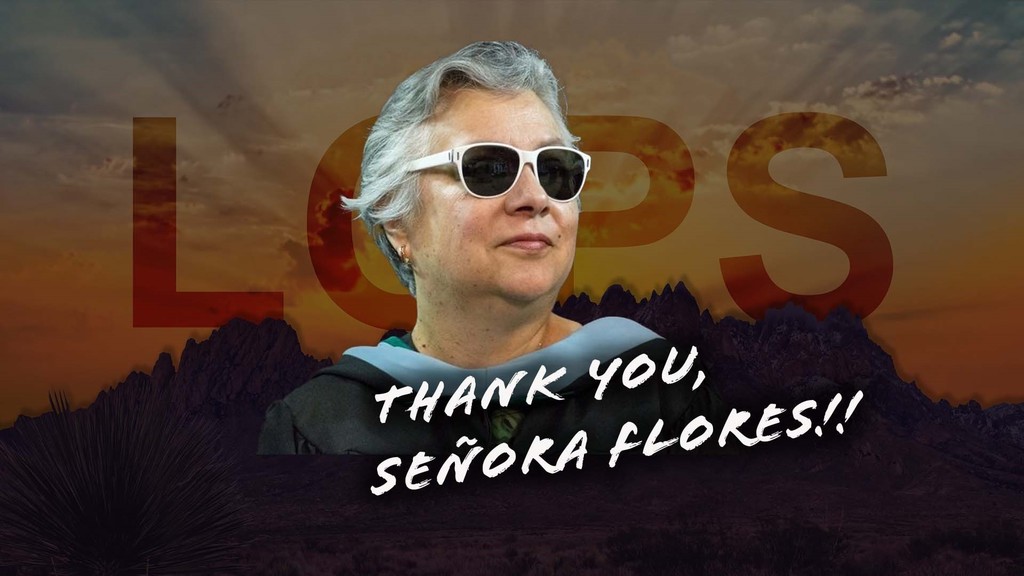 Congratulations to our Governor's STEM challenge team for their sponsorship from Boeing. The students presented their project "We Speak for the Knees". These students created a prophylactic knee brace that detects undesirable knee movements to aid in the prevention of meniscus tears. Lauren Owens Wendell Oderkirk Evan Kleczka Kai Baird-Hewus Mrs. Beth Rewalt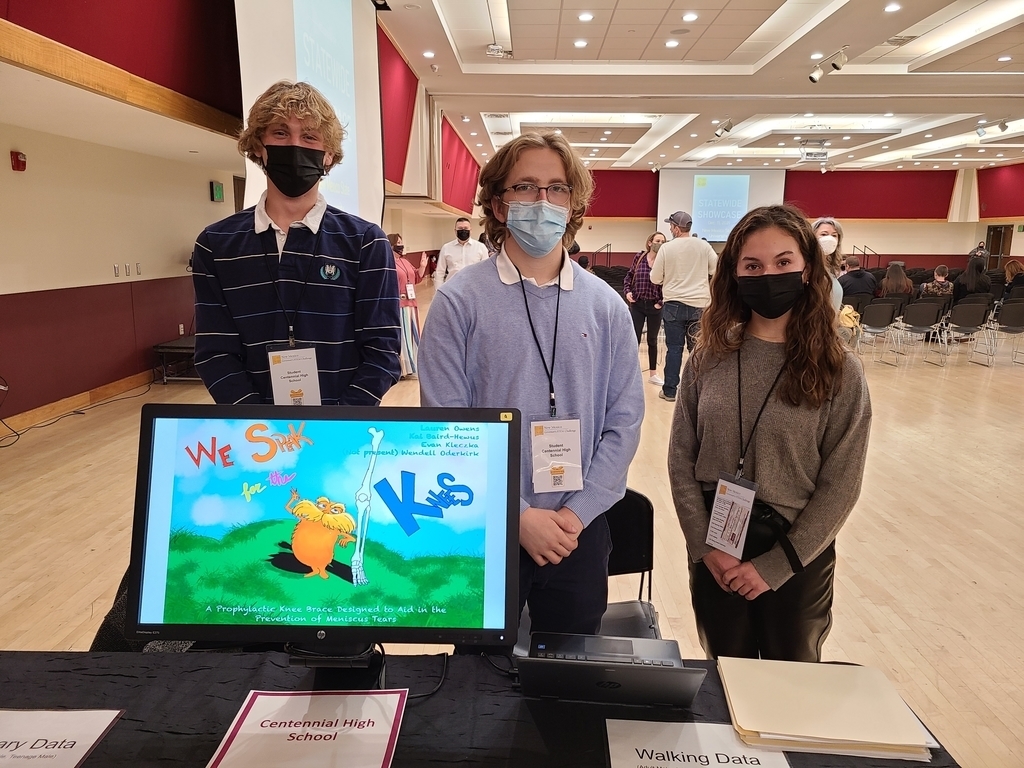 Congratulations to our newly elected & re-elected LCPS School Board Members - Ray Jaramillo District 1, Pamela Cort District 2, Robert Wofford District 3.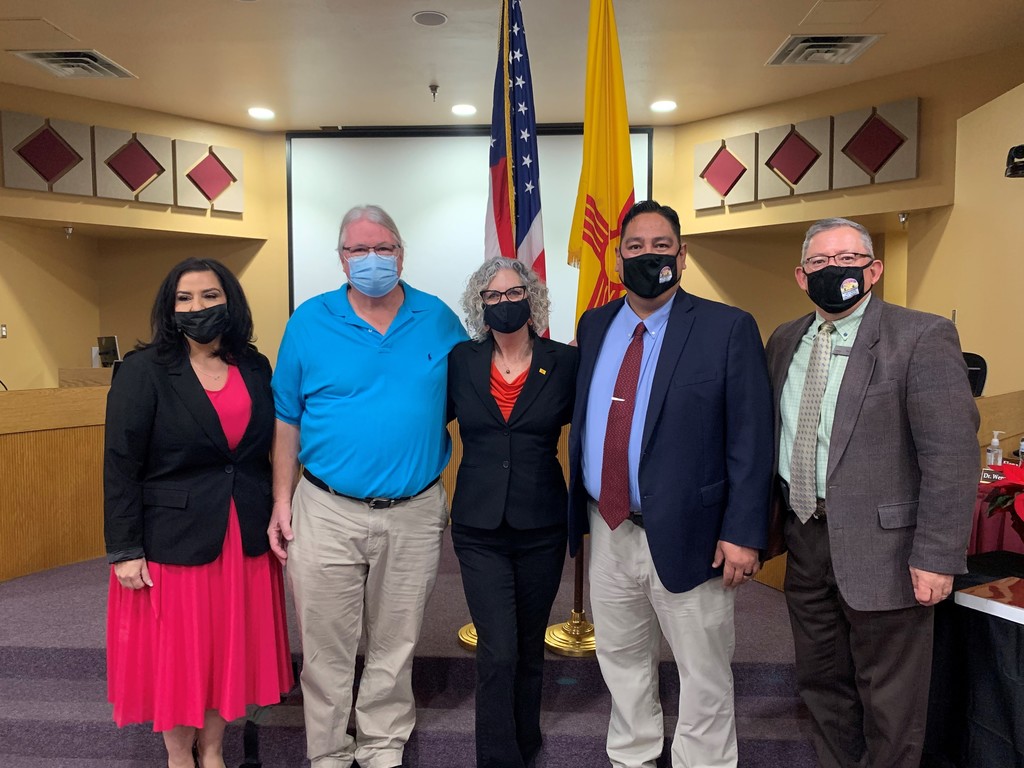 Boys Middle/LCYSA School Soccer "Cup Series" Saturday, Dec. 11, 2021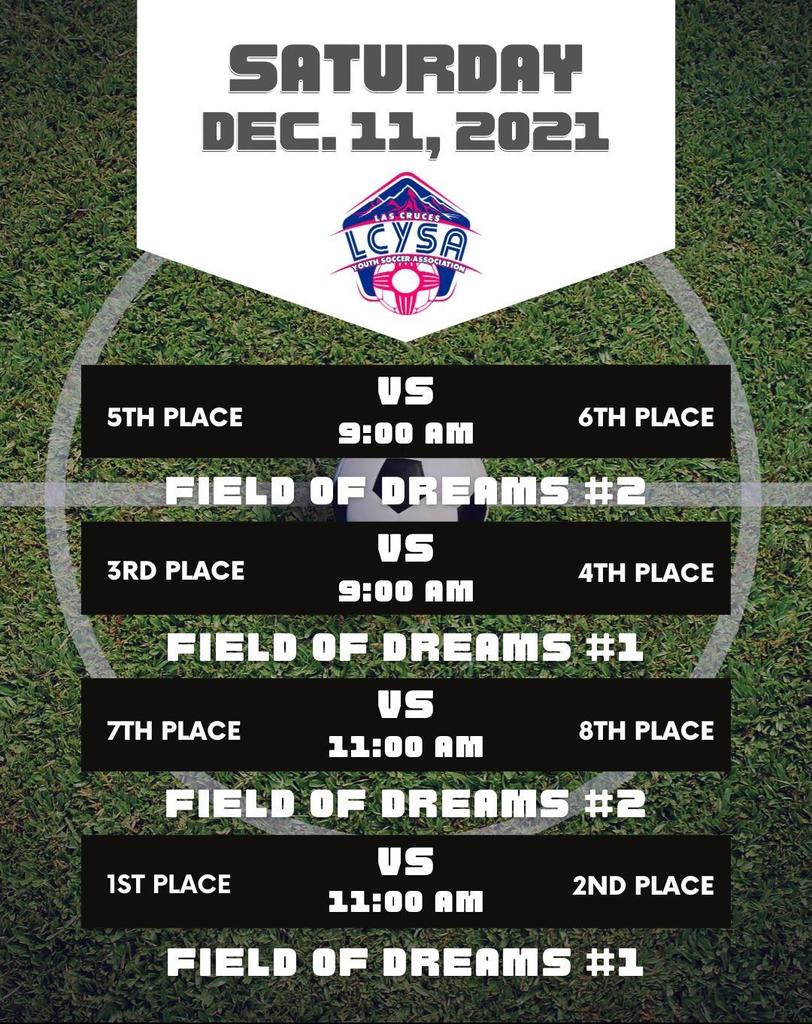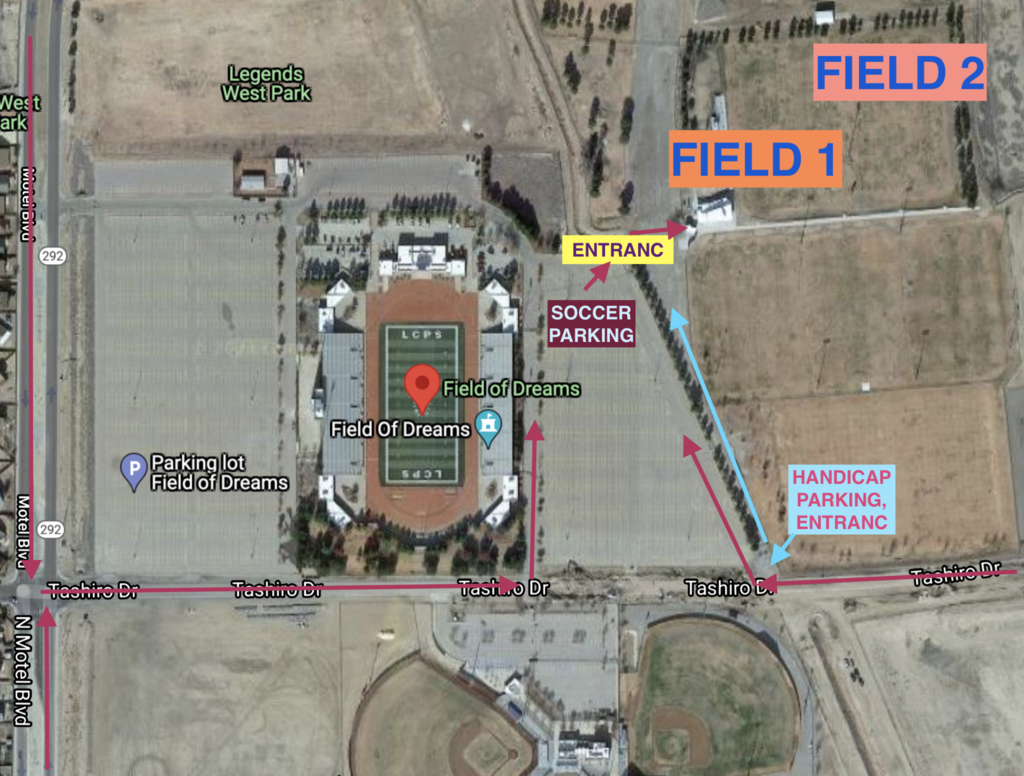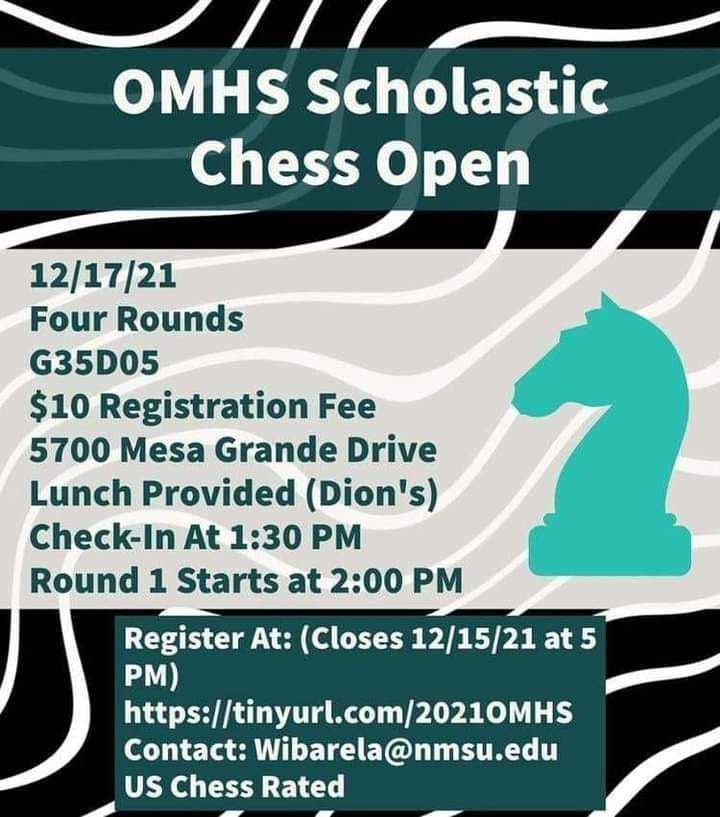 Virtual Learning Academy Application K-12 for the 22-23 School Year Deadline to apply: January 21 Virtual Learning Academy Application Period We would like to announce the opening of the application period for the Virtual Learning Academy. The applications are for the 2022-2023 school year. The link below will take you to the online application. Please have your student with you and fill it out together. The application does have essay questions and other information that the student will fill out and also information that the parent/guardian will need to fill out. One application per student will need to be filled out. This is the only way to gain admittance into the Virtual Learning academy for next year. Virtual Learning Academy is open for Kindergarten through 12th grade students. Please join us in a virtual meeting if you need more information on what virtual Learning Academy is. To begin the enrollment process for VLA, please click here: Virtual Learning Academy Application Release Virtual Meetings Wednesday December 1st from 5:30 p.m.-6:30 p.m. using zoom link:
https://lcps.zoom.us/j/85645383584
Thursday January 13th from 5:30 p.m.-6:30 p.m. using Zoom link:
https://lcps.zoom.us/j/86192531156
Application link:
https://form.jotform.com/213004693882154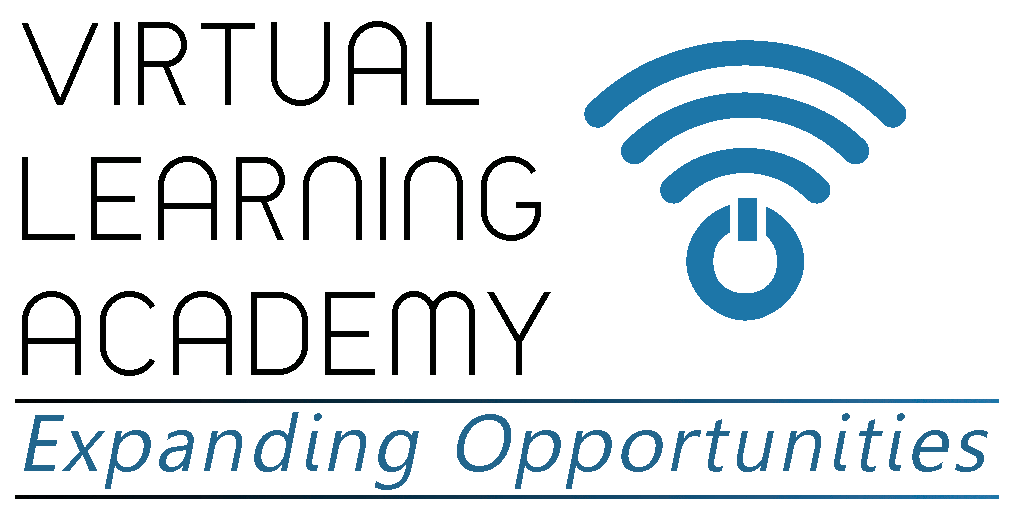 LCPS: What's on the line when you vote Early voting started Oct. 5 and on the ballot are two questions you should pay attention to: an option to authorize $50 million in general obligation bonds for various building project in Las Cruces Public Schools, and the renewal of a two-mill levy for capital improvements. There is a lot at stake for our public schools. Over the last year and a half, we have focused primarily on efforts to mitigate the impacts of COVID-19 in our buildings and keep kids in school. In the background, we still have the responsibility to maintain over 40 buildings that belong to LCPS. It's a job we cannot do without these two funding sources. You have probably heard a lot about other funding that has been made available to your public schools. They come to us as federal dollars in the American Rescue Plan, and Higher Education Emergency Relief. These monies are specific to offset the impacts to our district related to the coronavirus, and while they are a vital safety net for things like addressing learning loss, improving air filtration systems and personal protective equipment, they cannot be used for long-term protection of the investment you have already made in your public schools. The district has identified capital outlay needs in excess of $450 million in our current Facilities Master Plan. It's a blueprint for where the district needs to go to in the coming years to accommodate enriched learning opportunities, expansion and upgrading of aging buildings and other construction projects that create ideal educational environments for our students. Currently on the ballot, we are asking for $50 million that will accomplish our top-most priorities for LCPS students and staff: ADA compliance upgrades across the district, replacement of the track at the Field of Dreams that is over 20 years old, construction of a better school bus loop and drop-off zone at Zia Middle School (have you been on University when school is starting or letting out? It's a challenge), roof replacements for several elementary schools, and essential kitchen remodels for Highland Elementary and Lynn Middle School. Another priority project in the district is enriched learning opportunities for our students. A large percentage of our high school students have asked for hands-on, career-based classes, and we are delivering, but we have an opportunity to build something better so our students can do better things. Not all high school graduates will attend college, and it is our responsibility to provide exploration opportunities before they leave high school and venture into the world. General obligation bonds can provide that funding source to create spaces for those learning opportunities. There is a myth that bond money pays for salaries. It does not. Operational funding at LCPS pays for things like salaries, utilities, insurance and textbooks. Bond funding and the mill levy allow us to keep up with growth and preserve taxpayers' previous investments by repairing and maintaining schools – without raising taxes. As good stewards of the public trust, we have completed several projects from the prior bond issue in 2018. We are in the process of completing an HVAC overhaul at Lynn Middle School, installed security vestibules at eight elementary schools, installed security fencing at three of our campuses to mitigate outside threats to our students, and installed shade structures at seven of our schools. Several other projects, like remodels and added multi-purpose rooms at Fairacres, Hillrise and Desert Hills elementary schools, are finally on track after a year of COVID-related delays. It's exciting to see those plans finally come to fruition, thanks to the support of voters. Early voting runs through Oct. 30. For more information, please visit
www.studentsfirst.vote
. -Ralph Ramos is the superintendent at Las Cruces Public Schools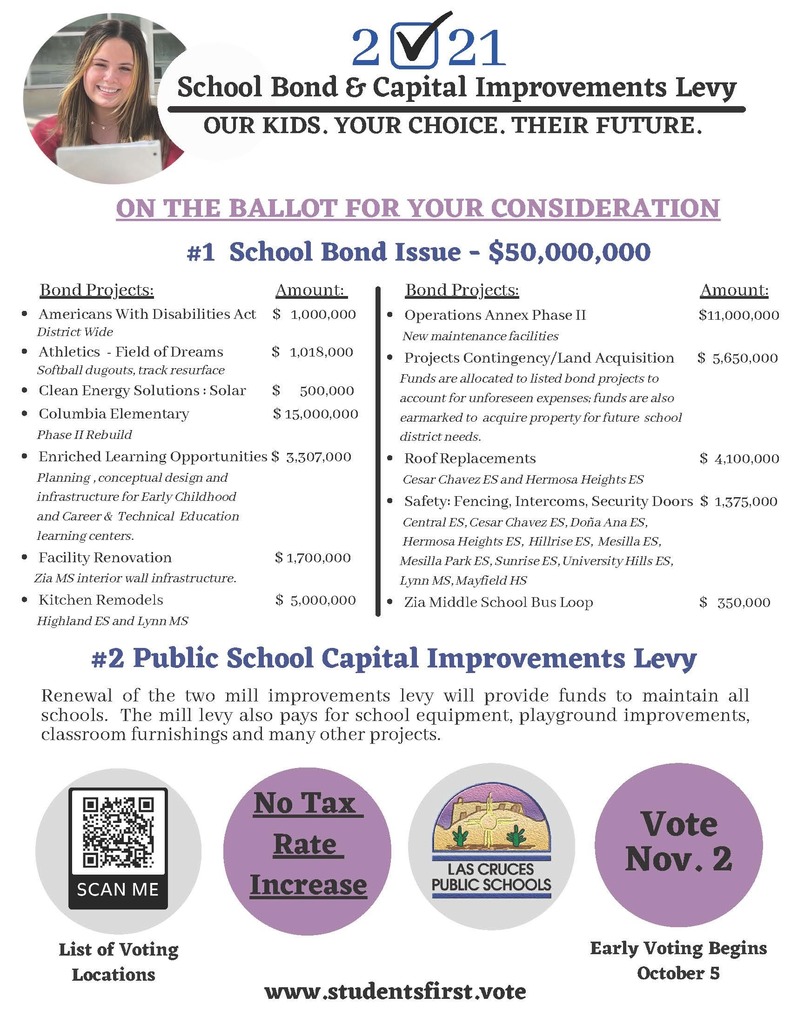 The Las Cruces Public Schools Nutrition Services Department will be conducting an in person job fair for Food Service Workers on October 22nd from 8 a.m. to 12 noon. Please share this flyer with anyone you know who is interested in joining our Exemplary LCPS Team as a Food Service Worker! Anyone interested in an interview needs to report to Central Office with the documentation required. Feria de trabajo de LCPS para trabajadores de servicios de alimentos el 22 de octubre (en persona) El Departamento de Servicios de Nutrición de las Escuelas Públicas de Las Cruces llevará a cabo una feria de trabajo en persona para los trabajadores del servicio de alimentos el 22 de octubre de 8 a.m. a 12 del mediodía. ¡Comparta el volante con cualquier persona que conozca que esté interesada en unirse a nuestro Equipo ejemplar de LCPS como trabajador del servicio de alimentos! Cualquier persona interesada en una entrevista debe reportarse a la Oficina Central con la documentación requerida.

Virtual Teacher Job Fair and Virtual Special Education Teacher Job Fair via Zoom from Oct. 11 - Oct. 22 The Las Cruces Public Schools Human Resources Division will be conducting a Virtual Teacher Job Fair and a Virtual Special Education Teacher Job Fair (via Zoom) from October 11th through October 22nd. The flyers with the information are attached to this message. Please share with anyone you know who is interested in joining our Exemplary LCPS Team as a Teacher or Special Education Teacher! Anyone interested in setting an interview for the Teacher and/or the Special Education Teacher positions needs to send an e-mail to Ms. Sherley O'Brien at
sobrien@lcps.net
or Jesse Pareo at
jpareo@lcps.net
. La División de Recursos Humanos de las Escuelas Públicas de Las Cruces llevará a cabo una Feria Virtual de Trabajo para Maestros y una Feria Virtual de Trabajo para Maestros de Educación Especial (vía Zoom) desde el 11 de octubre hasta el 22 de octubre. Los folletos con la información se adjuntan a este mensaje. Por favor, comparta con cualquier persona que conozca que esté interesado en unirse a nuestro equipo ejemplar de LCPS como maestro o maestro de educación especial. Cualquier persona interesada en programar una entrevista para el puesto de maestro y / o maestro de educación especial debe enviar un correo electrónico a la Sra. Sherley O'Brien a
sobrien@lcps.net
o Jesse Pareo a
jpareo@lcps.net
.